ACIAR Scholarship for January 2021 Enrollment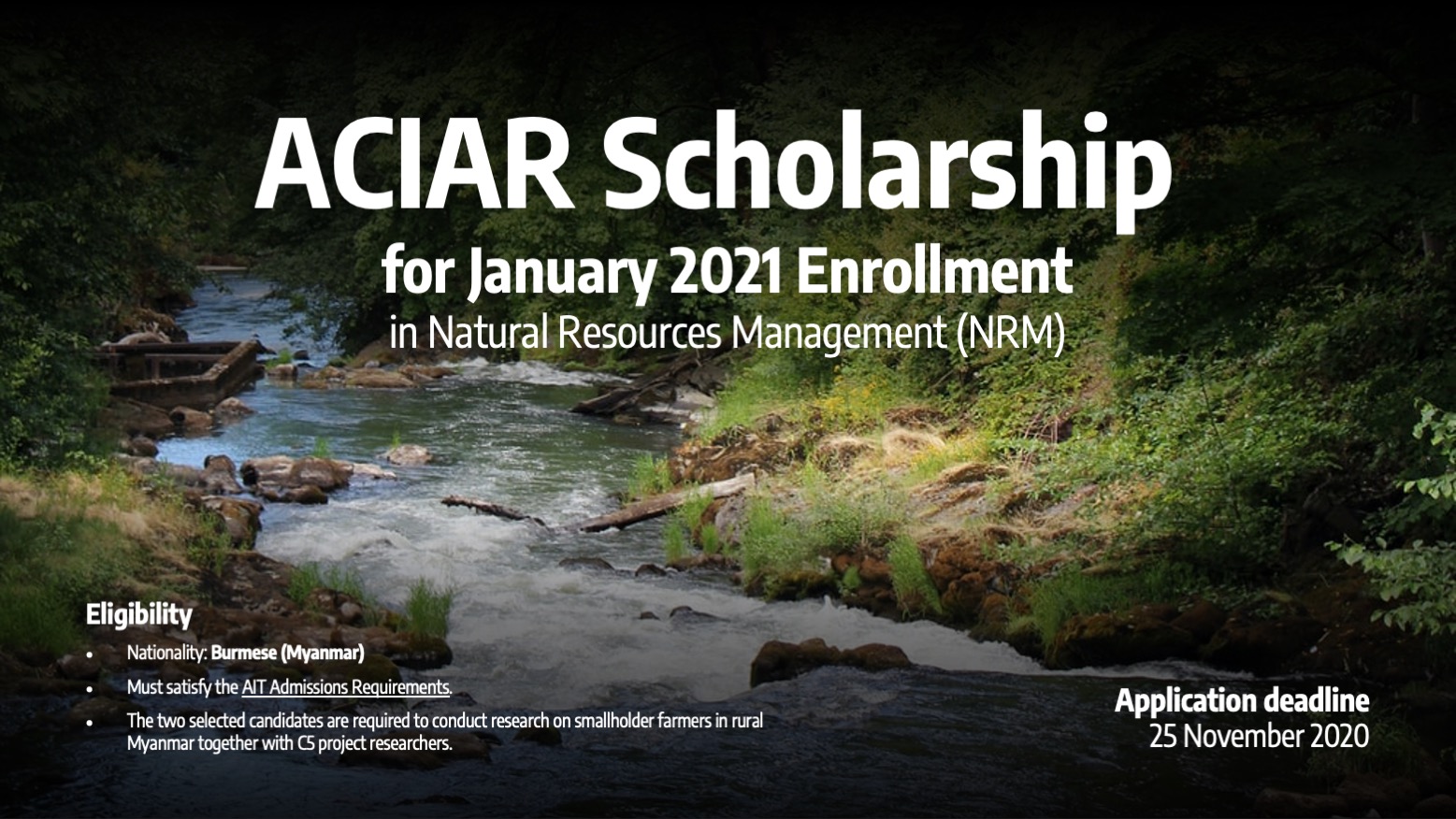 Since 1982, the Australian Centre for International Agricultural Research (ACIAR) has supported research projects in four regions: eastern and southern Africa, East Asia, South and West Asia, and the Pacific. The ACIAR-funded C5 Project has approved its scholarship support for two full-time on-campus 2-year Master students for Spring (January) 2021 enrollment in Natural Resources Management (NRM), Department of Development and Sustainability (DDS), School of Environment, Resources and Development (SERD).
Eligibility
Nationality: Burmese (Myanmar);
Four years of Bachelor's degree or equivalent, with a cumulative GPA of at least 3.25/4.00;
Official English Score: At least, Toefl-CBT 210, Toefl-iBT 76, IELTS-Academic 6.0 (writing and overall), or AIT-EET Score 6.0.
Must satisfy the AIT Admissions Requirements.
The two selected candidates are required to conduct research on smallholder farmers in rural Myanmar together with C5 project researchers.
Coverage
The ACIAR Scholarship, in conjunction with AIT scholarship, covers the tuition for full 48 credits for the 2-year Master's degree. Moreover, The ACIAR Scholarship generously covers the semester registration fees, bursary and accommodation allowances, medical insurance, visa fees, and research grant. The selected candidates will have an opportunity to work in the project on agricultural development for rural smallholders in Myanmar for their Master thesis.
Apply for admission at AIT to be considered for this scholarship at this LINK
Deadline for January 2021 intake: 25 November 2020