The Royal Thai Government Scholar Interview – Jytah Buranuz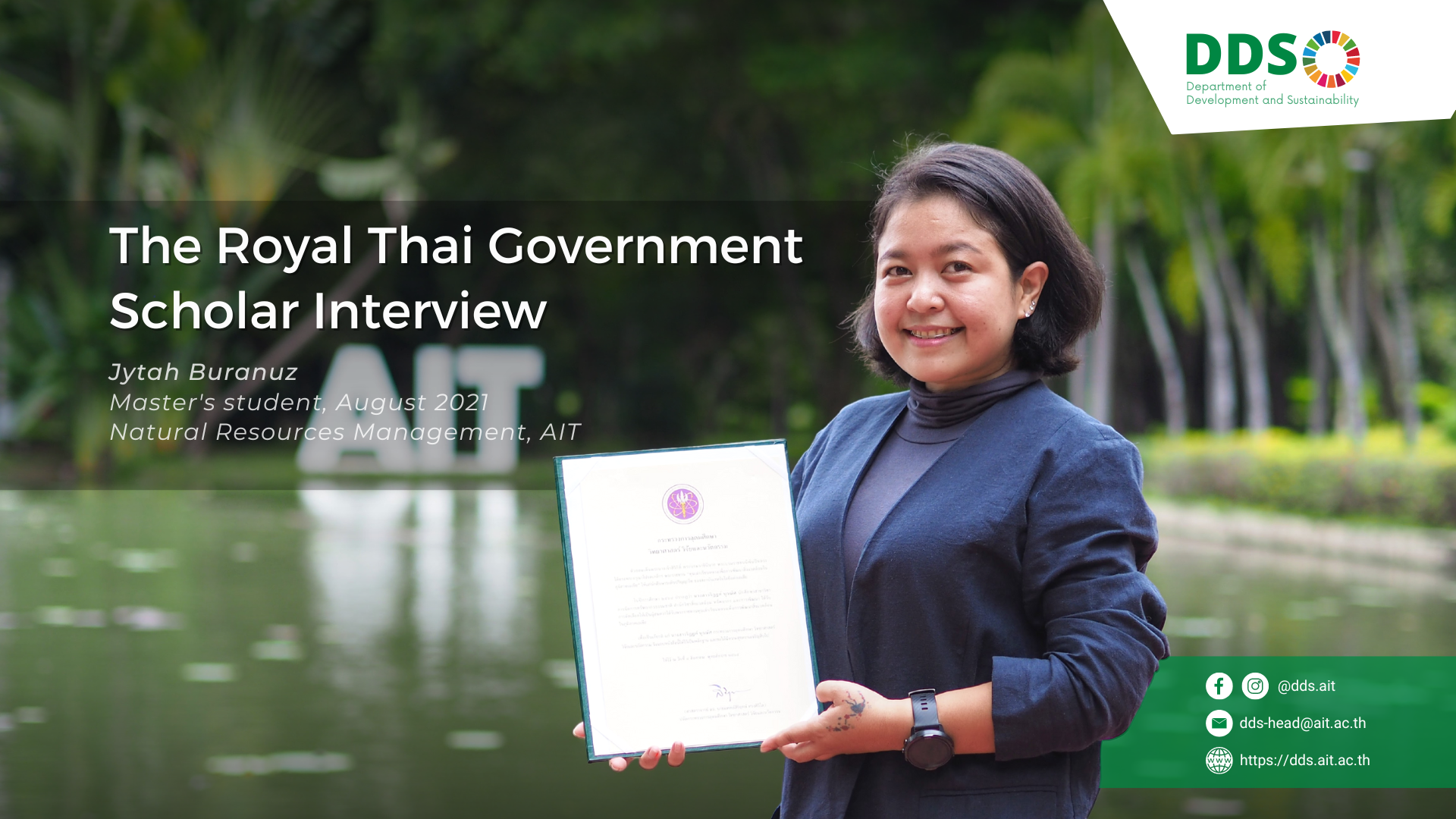 DDS would like to warmly congratulate Jytah Buranuz, Master's student in the Natural Resources Management program, August 2021 batch for receiving The Royal Thai Government Scholarship – Her Majesty the Queen's Scholarships for Master's Programs. The following is an interview exchange with the Her Majesty the Queen's Scholarships for Master's Programs recipient, which may serve as a guideline for those interested in applying for study at DDS.
Q: Congratulations on receiving this year´s HM Queen scholarship, what does the award mean to you?
A: If I had to choose between this and any other academic opportunity, I would choose this one every time. Now that my financial worries have been eliminated, I can give my whole attention to my schoolwork. I see it as a door opener to more possibilities.
Q: How did you find out about the Royal Thai Government Scholarships?
A: Three Wheels Uncle, a Facebook page advertising an AIT-funded Master of MPA program funded by the Japanese government. After doing some research on the AIT website, I decided on applying for the NRM course and the scholarship.
Q: As a Thai student, what is the reason that makes you decide to study at SERD, AIT?
A: To be honest, I have no idea what supplies were sent to AIT. I've just enrolled at AIT with a fervent interest in environmental issues and a boundless curiosity about sustainability. Even though I took courses via AIT's online platform, I had a fantastic time learning at the Department of Development and Sustainability, SERD. Any instructor can maintain order in a classroom and captivate everyone's attention without fail.
Q: What are the most important things you learn at AIT School when you think about your other career and personal level?
A: When I consider the impact of my education on my professional and personal goals, I can safely say that learning how to balance a full-time course load at AIT with a full-time job is the single most useful skill I've picked up at AIT. Yes, it is really difficult and demanding, but I have learned a great deal to cope with the situation.
Q: How would you describe living on the AIT campus as a Thai student?
A: An ideal way to take a break from studying is to stroll around AIT's beautiful green spaces. Thanks to AIT's abundant tree population, visitors may see a wide variety of flora and fauna. Seeing the squirrels scamper around the tree is a pleasant diversion for me.
Q: What do you recommend to students who want to receive a scholarship?
A: Here's a fantastic chance to further your education. No uncertainty, please make an effort to participate. Read the course descriptions carefully to figure out what you want to study, and then apply with the necessary credentials. The doors to these possibilities are wide open.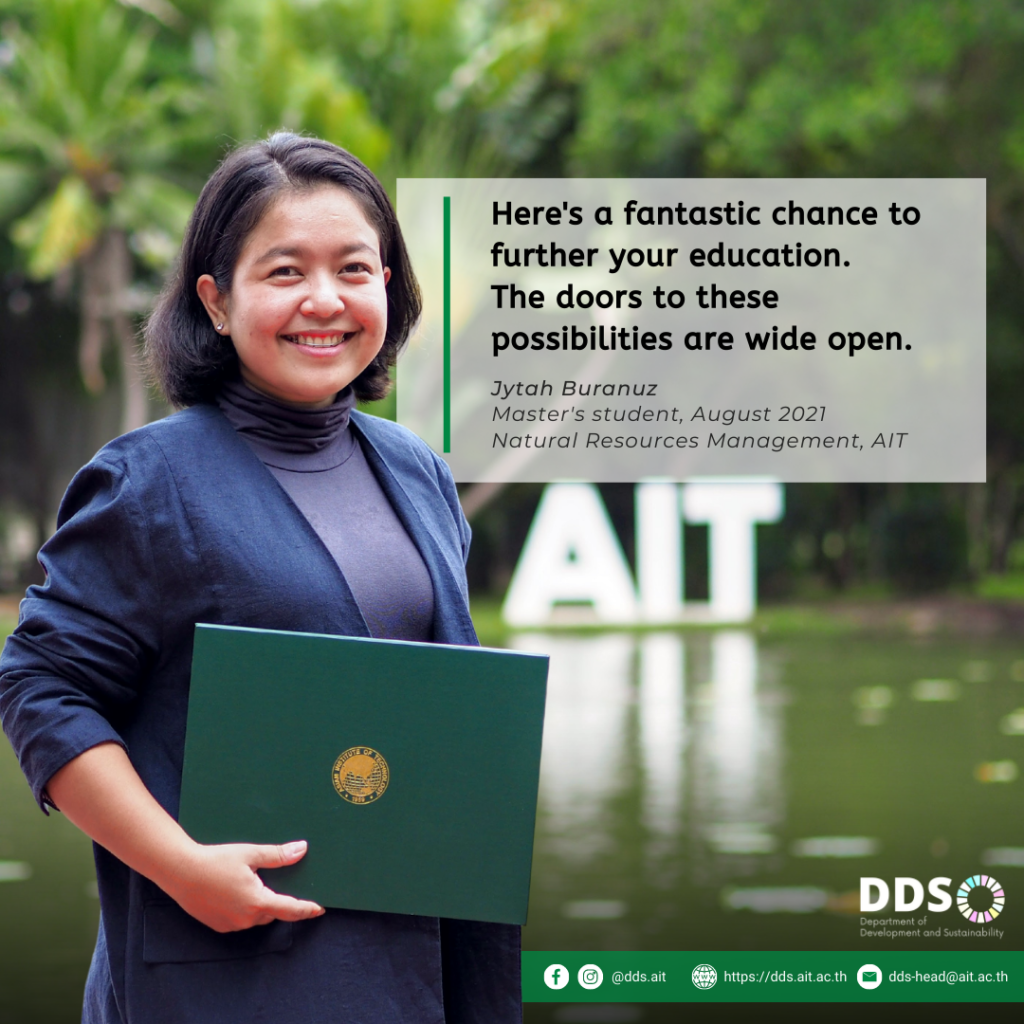 Q: Can you imagine working after graduating?
A: It was a stroke of luck that I received a job offer from my present company before I graduated. Whether I'm working as a marketing communications professional or a strategy and sustainable development specialist, I'll be able to use the skills I've learned at AIT and help my firm meet its sustainability objectives faster.
Congratulations again to Jytah Buranuz, Master's student in the Natural Resources Management program, August 2021 batch. DDS wishes you a successful journey ahead in all your future ventures and endeavors. We would also like to offer our full encouragement and support to you every step of the way.
Get the Direct Link to Apply