Program Launch Webinar: One-Year Professional Master's in Environmental and Social Sustainability Assessment and Management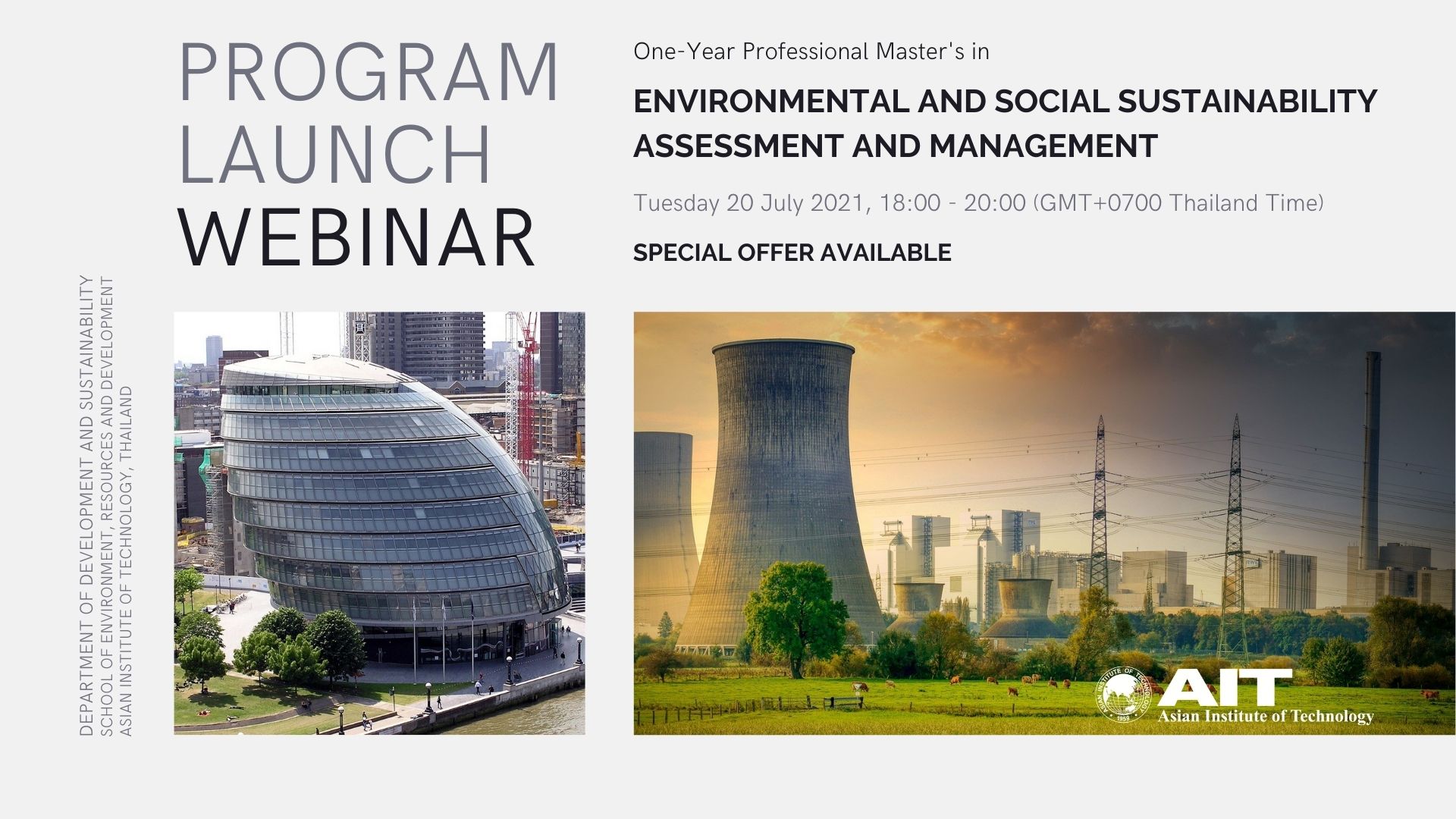 Event date: Tuesday 20 July 2021
Event time: 18:00 – 20:00 (GMT+0700 Thailand time)
To join the event and special offer: https://bit.ly/3r1lBKr
More about the program: PM-ESAM
Social and environmental assessment is becoming a central tool for integrating social and environmental considerations into project decision-making and design. Assessment and management measures are required for all projects categorized by the screening process as posing Moderate, Substantial or High Risks by seeking to understand the potential types and magnitude of social and environmental risks and impacts.
To upgrade your professionals to the ever-growing environmental standards, the Department of Development and Sustainability at AIT, is about to launch a new and unique One-Year Professional Master's Program in Environmental and Social Assessment and Management (PM-ESAM).
The interactive hands-on program of our international Institute builds capacity for development projects and organizations in line with their global and local specifics and CSR.
To apply for PM-ESAM, please apply online at https://admission.ait.ac.th
Is the PM-ESAM – Professional Master of Environmental and Social Assessment management right for me?
Having 3 or more years of professional work experience
Be earned a four-year bachelor's degree 
Be ready to sharpen my professional skills and apply my experience on a global level
Program Features
1-year program with non-working schedule
Highly Ranked according to World University Ranking Organization
Top Faculty – Our faculty team enhances the world-class business curriculum by sharing their professional experience.
The structure of the curriculum meets international academic standards and is highly practical
Extensive Alumni Network – Over 25000 AIT Alumni in the world.
𝐇𝐲𝐛𝐫𝐢𝐝 𝐒𝐮𝐩𝐩𝐨𝐫𝐭 𝐌𝐨𝐝𝐞 – Livestream class in Zoom for studying, and record video for re-learning
Projects Gallery