Dr. Vilas Nitivattananon of Urban Environmental Management at a promotion visit to Prince of Songkla University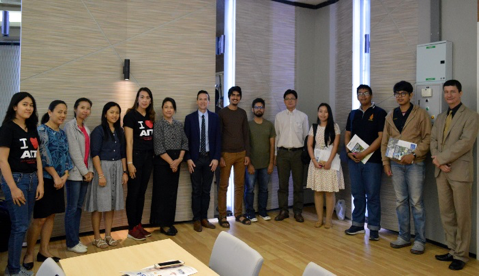 AIT team, coordinated by and including OHCR staff, consisting SOM Dean and Dr. Vilas (DDS/SERD) visited to PSU Hat Yai campus and made presentations during 10-12 hrs. A total of approx. 20 participants (incl. some non-Thai students) participated with questions and discussions mostly concerning specific programs of interest, career opportunities and scholarships. As also attended by PSU's Assistant Vice President for International Relations, Dr. Kewalin Thammasitboon (kewalin.t@psu.ac.th) and Foreign Teacher, Mr. Zsolt M. Szekely (zsolt.m@psu.ac.th), PSU Hat Yai significantly recognized AIT and well prepared for hosting this session, As majority of students attended have background in engineering and sciences, also based on feedback received during the session, possible programs of interest in SERD are higher for E, EEM, ASE and FEBT, followed by CCSD, NRM, UEM and DPMM. A list of participants is with OHCR staff (Ms. Kanchana). It is noted that MOU between PSU and AIT will be signed soon.
In the afternoon, Dr. Vilas (DDS/SERD) visited to Faculty of Humanities and Social Sciences of PSU Pattani campus for a promotional seminar during 14:30-16:30 hrs, arranged by AIT alumni, Dr. Surawut (UEM PhD, s25chomaitong@hotmail.com) and Dr. Arkom (NRM PhD, aaaaakom@yahoo.com). Majority of 15 students and 4 faculty members attended (listed below) are from the Faculty' Departments of Geography, Social Development, and Economics. Following the overview of AIT and SERD, the presentations and discussions were focused on DDS's programs, relevant job opportunities and scholarships. Based on the feedback obtained, the programs with higher interest among the participants are GDS, RRDP and NRM.