AIT Seminar: Inequality and development in developing Asia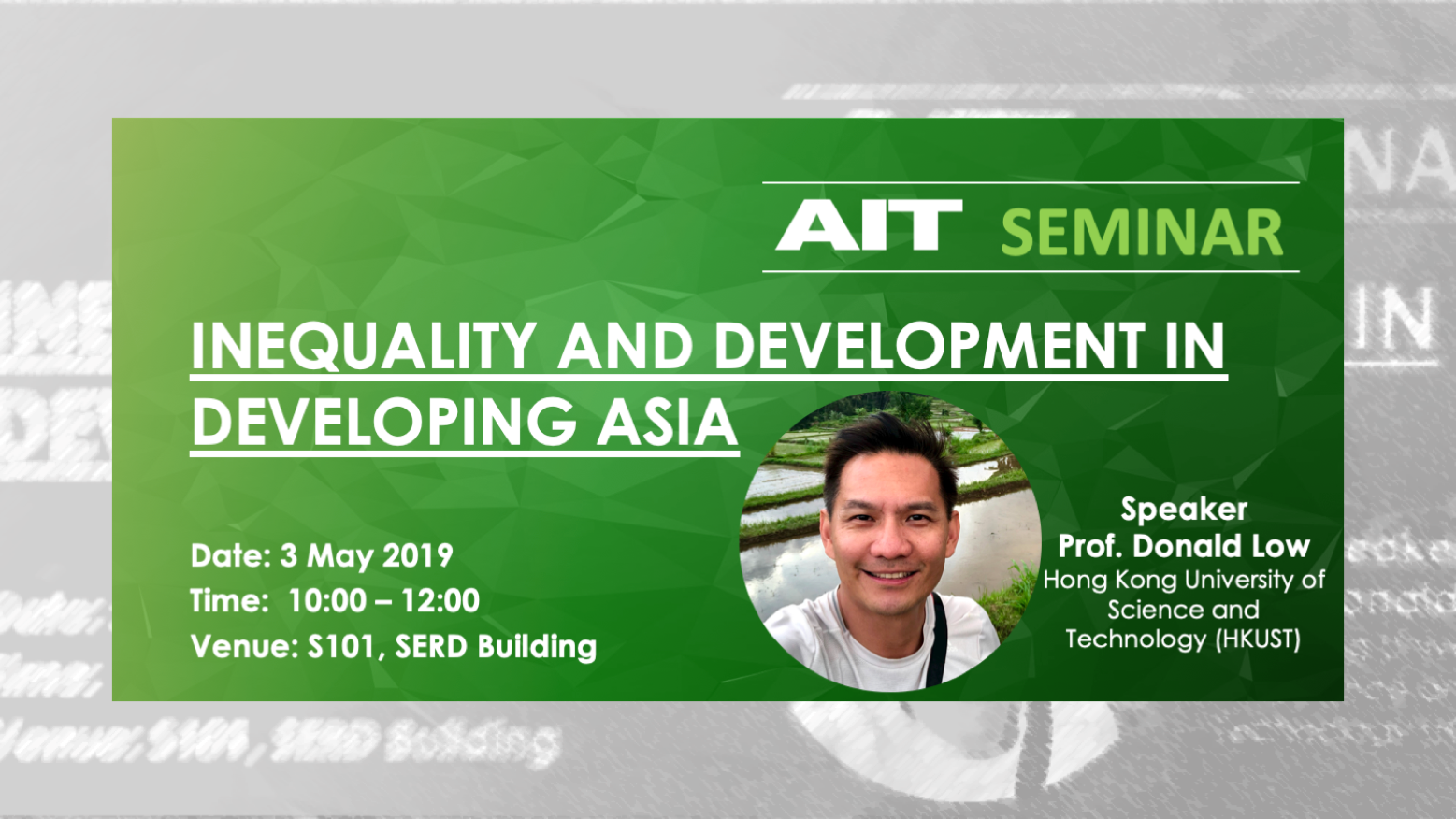 Inequality and development in developing Asia
Date: 3 May 2019
Time: 10:00 – 12:00
Venue: S101, SERD Building, AIT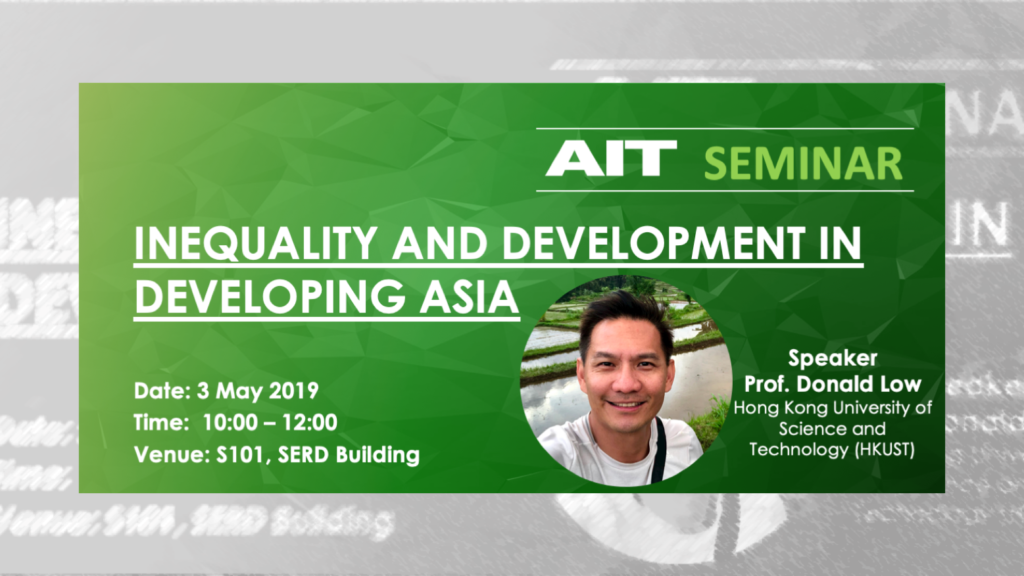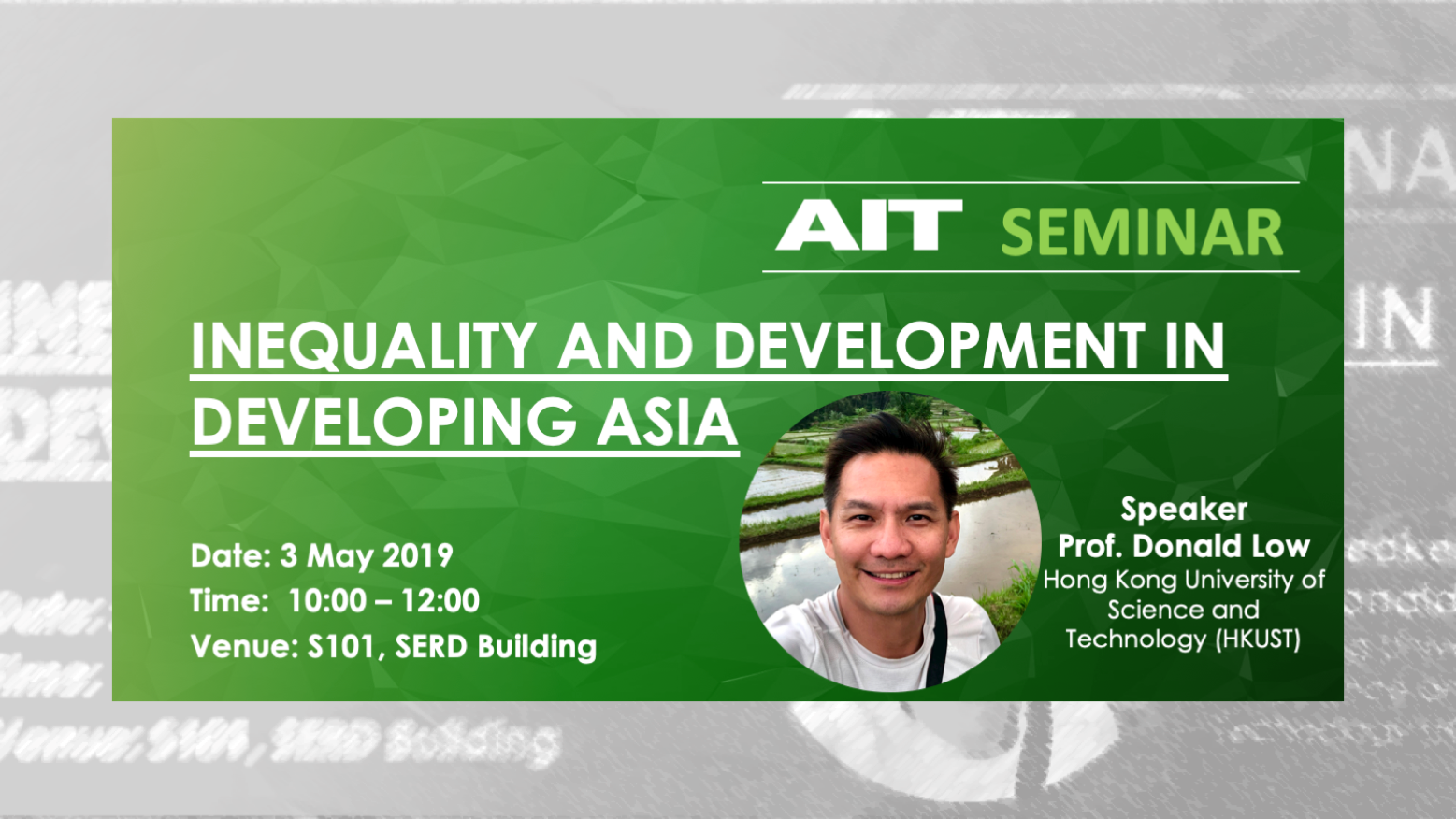 Seminar followed by discussion on collaboration between HKUST and AIT on public policy.
All are invited to join.
Background
Inequality in developing countries, including those in Asia, has increased in the last thirty years, even as inequality between developing and developed countries has narrowed. In-country inequality has increased in spite of the fact that in most of developing Asia, there has been a significant expansion of the middle class and a large reduction in abject poverty.
In this session, Professor of Practice in Public Policy at the Hong Kong University of Science and Technology, Donald Low, will argue that the patterns of inequality and the differences in developmental outcomes across Asia have mostly to do with the different growth models pursued by countries in the region. He will contrast the Northeast Asian growth model—as exemplified most recently by China's rapid development—and the South and Southeast Asian growth models. He will also discuss the problems of crony capitalism and inequality of wealth (not just of incomes) in developing Asia, and argue that this is the main driver of in-country inequality in most of developing Asia. In this session, Professor Low will also present two master programmes: the two-year Master of Public Policy programme at HKUST as well as the new, dual-degree Global Master in Public Administration programme offered with the University of Washington's Evans School.
About the speaker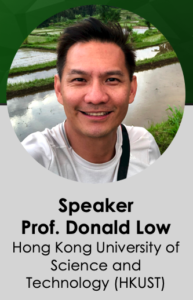 Donald Low is currently Senior Lecturer and Professor of Practice at the Institute of Public Policy of the Hong Kong University of Science & Technology as well as the Director of Leadership and Public Policy Executive Education. He is an accomplished consultant and lecturer in economics and behavioural economics, decision-making and risk analysis, inequality and social policy, complexity in public policy, organisational behaviour, and the politics and governance of Singapore.
Donald has served in, or consulted with, public, private, higher education and non-profit organisations. Prior to his current appointment, Donald was the Associate Dean for Executive Education and Research at the Lee Kuan Yew School of Public Policy, National University of Singapore. Besides leading the School's executive education department, he also headed its case study unit. Donald also served nearly 15 years in the Singapore government as a member of the Administrative Service. During that time, he established the Centre for Public Economics at the Civil Service College to advance economics literacy in the Singapore public service. He also held senior positions at the Ministry of Finance and the Public Service Division.
Donald is the editor of Behavioural Economics and Policy Design: Examples from Singapore (2011), a pioneering book which details how the Singapore government has applied ideas from behavioural economics in a number of policy domains. His best-selling 2014 book, Hard Choices: Challenging the Singapore Consensus, raises searching questions about the long-term viability of many aspects of governance in Singapore. He argues that a far-reaching rethinking of the country's policies and institutions is needed in light of new socioeconomic, demographic and political realities. Such rethinking is necessary even if weakens the very consensus that enabled Singapore to succeed in its first 50 years.
Donald holds a double first in Politics, Philosophy and Economics from Oxford University, and a Master in International Public Policy from Johns Hopkins University's School of Advanced International Studies.