AIT Seminar: THE FUTURE OF TOURISM EDUCATION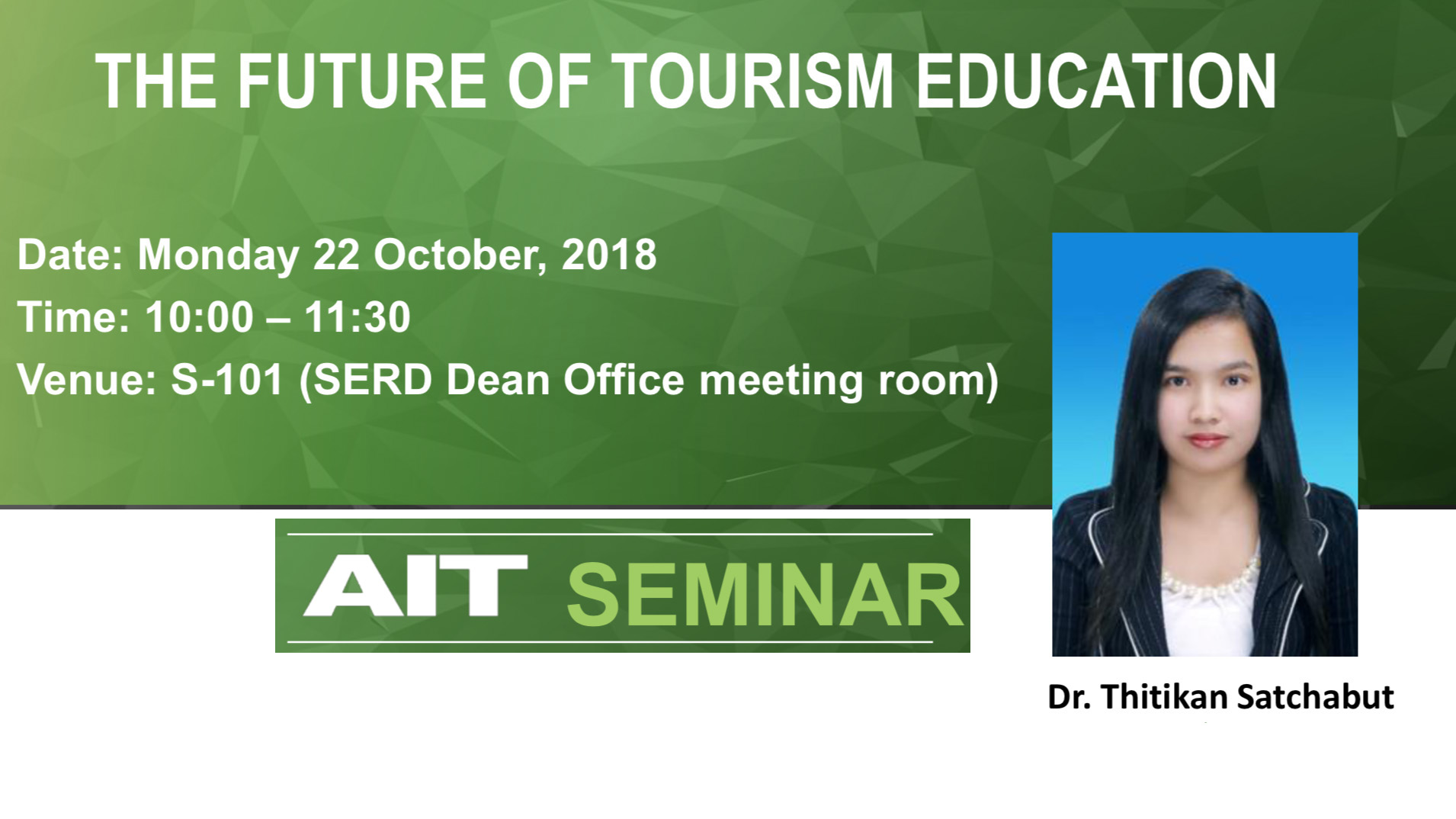 AIT Seminar
THE FUTURE OF TOURISM EDUCATION
Date: Monday 22 October, 2018
Time: 10:00– 11:30
Venue: S-101 (SERD Dean Office meeting room)
Abstract
Expansion of tourism industry has brought benefits to the country's economics both locally and nationally. Furthermore, tourism growth influences the development of more tourism degree programs worldwide. In tourism-dependent country like Thailand, higher education institutions are competing in promoting their tourism-related programs in the education market. Indeed, many tourism programs are being offered popularly in public and private institutions. The marketing campaign to attract new students become intense. While the competition is high, the challenge becomes worse with the news predicting education disruption in Thai society. Various scholars and education-based organizations are alerting educators for changes. This special talk will address some of these issues with its center on tourism education. It will also offer some ideas that tourism programs and other fields can adapt to possibly survive before becoming endangered.
Dr. Thitikan Satchabut got her PhD degree in Recreation, Park & Tourism Science from Texas A&M University (TAMU), USA in 2013 and her Master's degree in Natural Resources Management from Asian Institute of Technology (AIT) in 2009.
Currently she is associated with The Department of Tourism Management, School of Tourism and Services University of the Thai Chamber of Commerce (UTCC). She was the Assistant President for Marketing Communication and International Relations in 2016, The Associate Dean for Academic Affairs, International College in 2015 and Department Head of Tourism Management, Business School in 2014 in UTCC.
She has been interviewed and featured in a number of Medias in China and Thailand.
Reference: Seminar by Dr. Thitikan Satchabut_for 22 Oct 2018