Recruitment of IDRC Chair Professor on Gender and Forced Displacement in Asia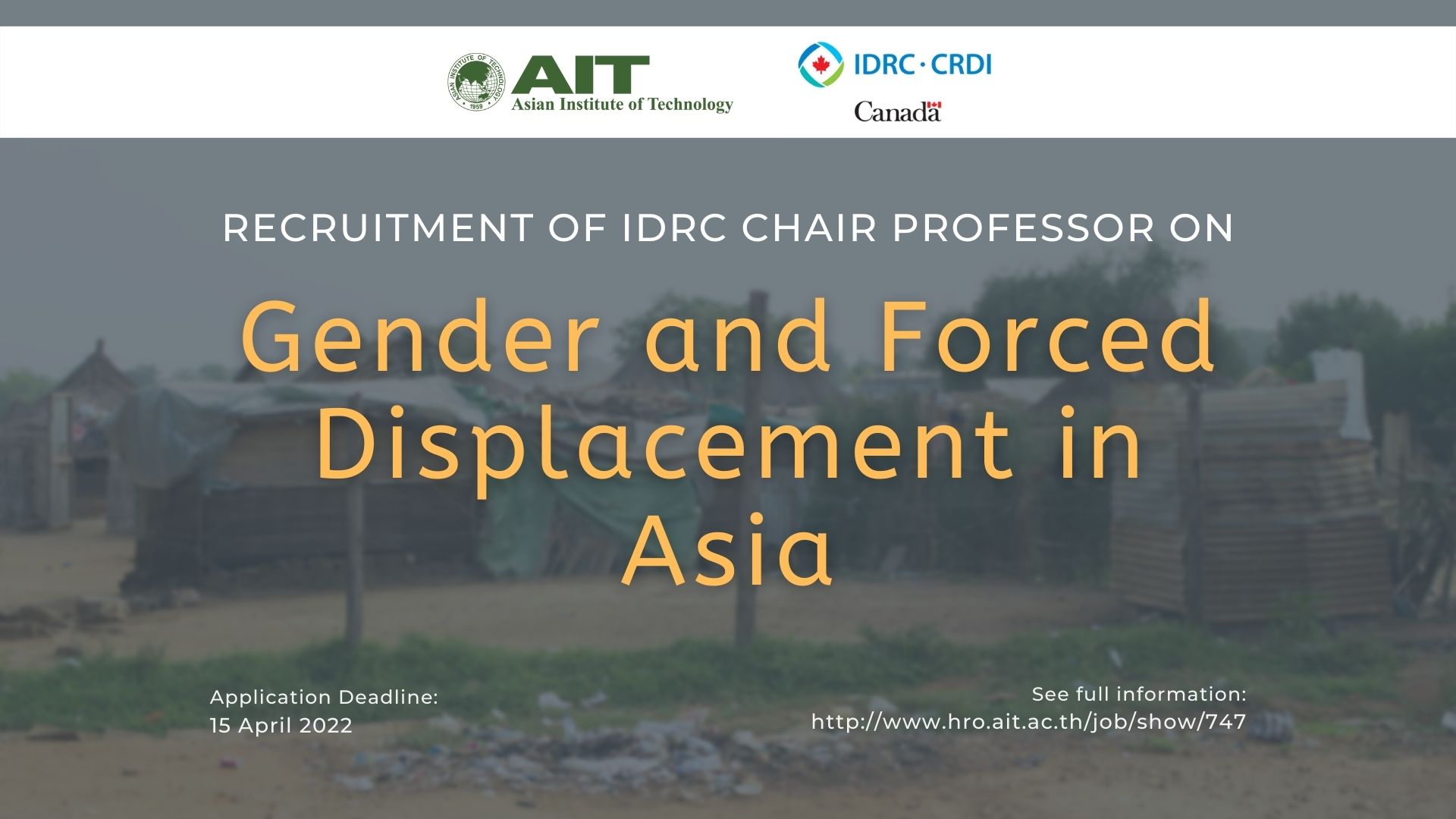 Asian Institute of Technology is currently recruiting a Chair Professor who would be serving as an academic leader on Gender and Forced Displacement in Asia and start up a Center for the same purpose at AIT. The project is supported by IDRC Canada.
Rank
Professor
Location
Asian Institute of Technology (AIT), Thailand.
Application Deadline: 15 April 2022
See full information: http://www.hro.ait.ac.th/job/show/747
Background:
IDRC Chair on Addressing Gender in Forced Displacement in Asia
The IDRC Chair position focuses on research on gender in the context of conflict-induced// climate change and disaster-induced/ development-induced forced displacement in South and South East Asia. It covers both internal and cross-border mobility of people caused by displacement. The Chair will be housed in the Gender and Development academic Program centering the gender focus on the issue of forced displacement and the programmatic goal of the position. The established Chair will address the research gap between important drivers of forced displacement in the region with needed knowledge and policy responses when it comes to gender dimensions of forced displacement. This identifiable gap in the exiting theorizing on forced displacement will also guide the research questions on drivers and responses. Some guiding research objectives for the Forced Displacement Chair and Project at AIT being:
Identify major drivers, including emerging ones, of forced displacement in the Southeast/South Asia and how are these drivers influenced by gender dynamics? How are political trends, climate change and investments likely to impact these drivers and their gender dynamics?
Understand the gender dimensions in experiences of forced displacement, how are these different or similar between women, men and SOGIE groups? How do different displaced people experience different vulnerabilities in various stages of displacement – from pre-displacement situation, decision to move out, during the time they move, settling down and integrating into the host community?
Analyze existing policy responses to forced displacement at different levels, from local, national and regional levels, and how do they address gender dynamics? Identify what are the policy gaps in addressing the gender dimensions of forced displacement in the region at these different levels? Additionally, how are humanitarian agencies, including civil society organizations addressing gender needs in forced displacement?
The selected Chair is expected to establish and lead the Institute's Gender and Development Center on Forced Displacement with a long-term vision for the continuity of the research program beyond the funding period. The Center, headed by the Chair, will be a focal point for the research and related activities on forced displacement carried out at AIT.
The candidate being sought is a senior scholar with an established international record of research and publication on gender issues in forced displacement. They are expected to have a PhD in a relevant Social Science field such as Gender/Women's Studies; Development Studies; Sociology; Anthropology; Communication; Economics; Political Science; International Relations or Geography. Regional expertise in South/Southeast Asia is desirable, specifically the Mekong region. The ideal candidate will have demonstrated engagement with civil society organizations – local NGOs and women's organizations – as well as relationships with UN and other relevant regional policy bodies. The individual may or may not be currently working in an educational institution but a capacity to work with graduate students and a record of teaching and supervising graduate level research (PhD and/or Post Doc) is a requirement. An interdisciplinary approach and ability to work collaboratively with program and university colleagues in an international setting is highly desirable. The candidate is expected to collaborate closely in one or more areas of the School of Environment, Resources and Development. AIT is an equal opportunity employer, and all qualified applicants will receive consideration for employment without regard to race, color, religion, gender, national origin, disability status, or any other characteristics protected by law. Scholars from the Global South, indigenous/ethnic minorities, and diverse SOGIE identities are encouraged to apply. The applicant needs to be a researcher based in Asia – either as a national or diaspora. Both internal and external candidates are eligible to apply.
The Asian Institute of Technology (AIT), founded in 1959, is an autonomous, non-profit, international, postgraduate educational institution. The Institute offers degree and non-degree programs in three Schools. AIT promotes technological change and sustainable development in the Asia-Pacific region through higher education, research and outreach. AIT has become a leading regional postgraduate institution and is actively working with public and private sector partners throughout the region and with some of the top universities in the world. It offers Master and Doctoral degrees, diploma and certificate programs in engineering, science, planning and management, and serves over 1,607 students from various countries across Asia and beyond. Teaching faculty, researchers and students from more than 45 countries form a unique international community on the Institute's beautifully-landscaped residential campus, situated 42 km north of Bangkok.
Gender and Development Studies (GDS) is a leading GAD (gender and development) academic and research center in Asia. As an academic arm of community-based efforts for gender equality and for the advancement of rights and inclusion of women and individuals of all sexual orientation and gender identity expression, GDS aims to be a center of excellence in gender and development studies by integrating gender equality as a key intellectual perspective and ethical concern in sustainable development.
The program since its start in 1997, has produced hundreds of graduates in Asia and beyond who have become gender experts in their home countries, and esteemed professional researchers. Many of the gender experts in the international and national organizations in this region are our graduates. All of our PhD students publish in high impact, peer reviewed journals, as well as many of our master's degree graduates. The program thrives on interdisciplinary collaborative approach to teaching and research and thematic focus of the faculty members range from gender and work, migration, empowerment and political participation, communication, health, gender and technology, LGBTQ rights, environment and climate change, etc. GDS has completed dozens of large research projects in many countries and in cooperation with governments, NGOs, UN agencies, and grassroots organization on gender and migration, women's empowerment and political participation, gender and natural resources management, women and work, etc. GDS also acts as a capacity building center by offering training programs and working with regional universities to development their gender and development research and teaching capacity. The program is the copyrights owner and host institution of a high-profile Taylor and Francis journal titled Gender, Technology and Development (GTD), a journal with a CiteScore of 2.16 for 2019.
DUTIES AND RESPONSIBILITIES:
Undertake original research and publish on gender and forced displacement to activate research in the region
Establish and lead the AIT gender and development center on forced displacement.
Network with researchers, practitioners, and policy makers on gender and forced displacement in the region and globally.
Develop research and capacity building proposals on forced displacement together with AIT colleagues and/or other researchers in the region to promote the research on gender and forced displacement.
Mentor early career researchers including postdoc and graduate students at AIT working on forced displacement.
Develop and teach a 1-2 postgraduate courses on Gender and Forced Displacement and/or relevant research methods
Benefits:
Internationally competitive remuneration at rank of full professor.
Start-up funds for research is included as part of the chair position.
A post-doctoral research scholar will be funded by the project to assist with research and Center work under the supervision of the Chair.
We are an equal opportunity employer and all qualified applicants will receive consideration for employment without regard to race, color, religion, gender, national origin, disability status, or any other characteristics protected by law.
The selected candidates will be evaluated on their record on (a) subject expertise (b) academic publication (c) funded research (d) mentoring and supervision of graduate students (e) collaboration and links with civil society, regional and intergovernmental organizations (f) plan for the Chair position.
This is a four-year funded position supported by IDRC. Extension of position is possible contingent on funding.
Please send in: Candidates will be required to submit a letter of intent, CV, and a vision for the Chair position including research and mentoring statements to the following address:
The IDRC Research Chair Selection Committee, Gender and Development Studies
School of Environment, Resources and Development
Asian Institute of Technology
P.O. Box 4, Klong Luang, Pathum Thani 12120, Thailand
Tel: +66-2524-5668
E-mail: apc-gds@ait.asia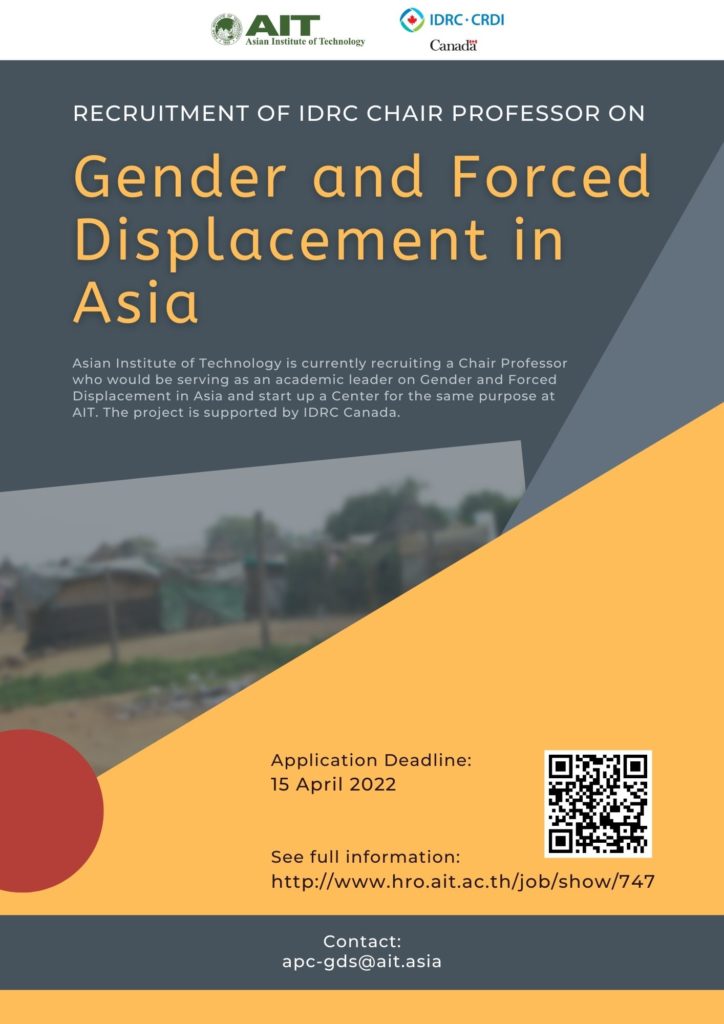 Reference: http://www.hro.ait.ac.th/job/show/747