1st LEARNING WORKSHOP WITH STAKEHOLDERS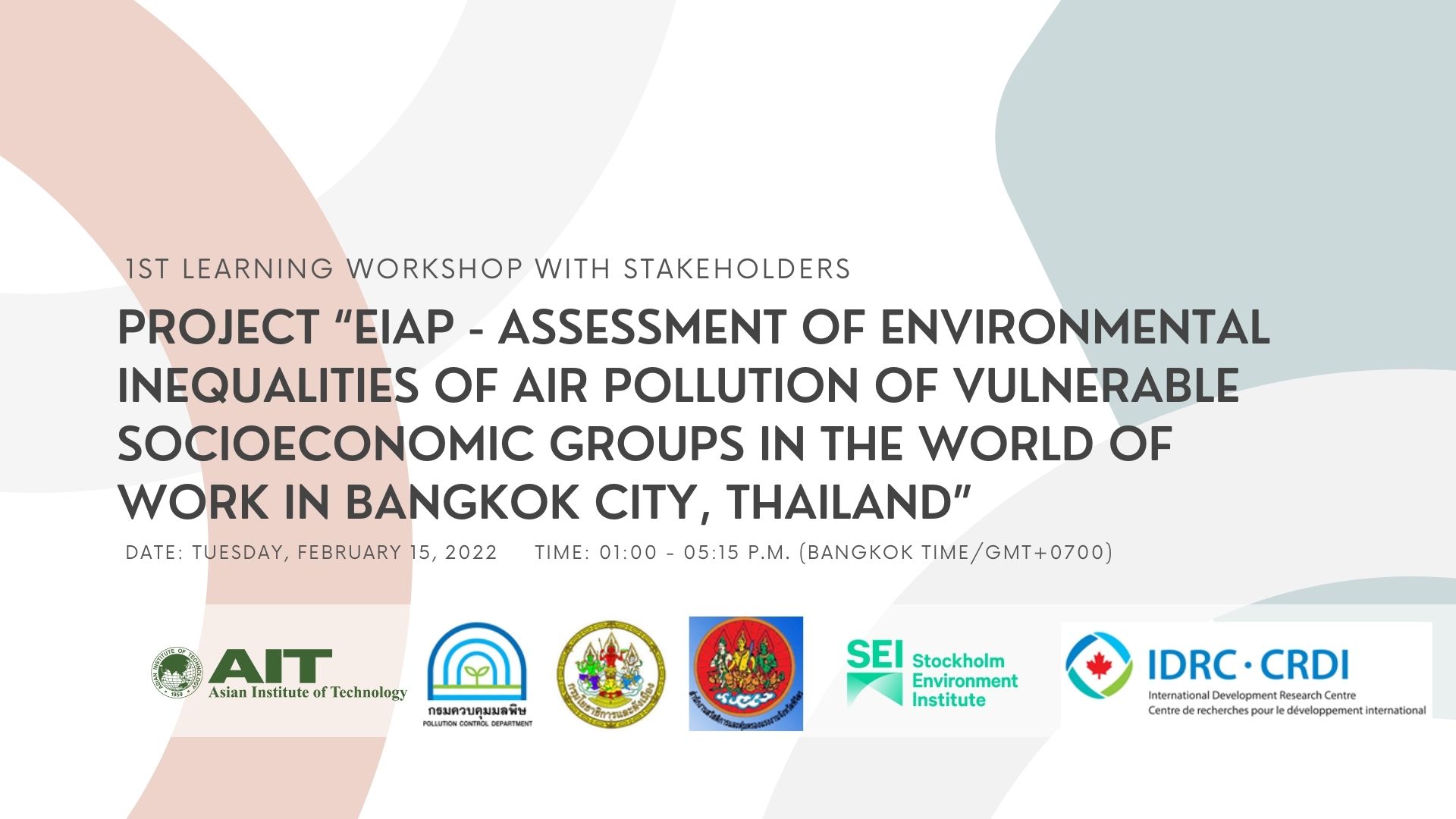 Project "EIAP – Assessment of Environmental Inequalities of Air Pollution of Vulnerable Socioeconomic groups in the World of Work in Bangkok City, Thailand"
| | |
| --- | --- |
| Date: | Tuesday, February 15, 2022 |
| Time: | 13.00 to 17.15 [Thailand Local Time) |
| Venue: | Online Platform (Ask the contact person below) |
Background
The Asian Institute of Technology (AIT) in collaboration with the Department of Public Works and Town & Country Planning, the Pollution Control Department, and the Department of Labor Protection & Welfare will be conducting the 1st LEARNING WORKSHOP WITH STAKEHOLDERS of Project "EIAP – Assessment of Environmental Inequalities of Air Pollution of Vulnerable Socioeconomic groups in the World of Work in Bangkok City, Thailand" on Tuesday, 15 February 2022.
This project is funded by the Stockholm Environment Institute (SEI) and International Development Research Centre (IDRC). The major objective of the project is to contribute to the understanding of the relationship between socioeconomic deprivation and air pollution exposure through the environmental justice index of air quality.
This project is implemented in the selected five districts in Bangkok including Bang Khun Thein; Thon Buri; Klong Toei; Nong Chok; and Din Deang, where the vulnerable socioeconomic groups are most exposed to unhealthy levels of urban air pollution.
This case study in Bangkok contributes to a collection of case studies for a larger regional project led by Stockholm Environmental Institute, entitled "Impacts of Air Pollution on the World of Work of Vulnerable Groups including Women and Youth in Southeast Asia" which seeks to understand the differentiated impacts of air pollution on those within the world of work in Southeast Asia and to identify recommendations on how to reduce air pollution and improve the quality and quantity of employment in a context of just transitions towards a low carbon economy.
This workshop aims to
gain a better understanding project objectives, design, outputs, and outcome;
understand multi-stakeholders' perceptions/ experiences of air pollution in the city, causes and effects of air pollution, existing policies/practices of air pollution control and health protection, and their gaps in policy formulation and implementation; and
Identify opportunities and synergies for collaboration in terms of data exchange, knowledge and experience sharing, etc. for achieving the project goals and policy impact.
Contact Person:
Dr. Thi Phuoc Lai Nguyen, Team Leader, Email: phuoclai@ait.ac.th
Ms. Kanlaya Muangsan, Administrator, Email: kmuangsan@gmail.com