NRM Students Win 2019 International Day of Forests Debate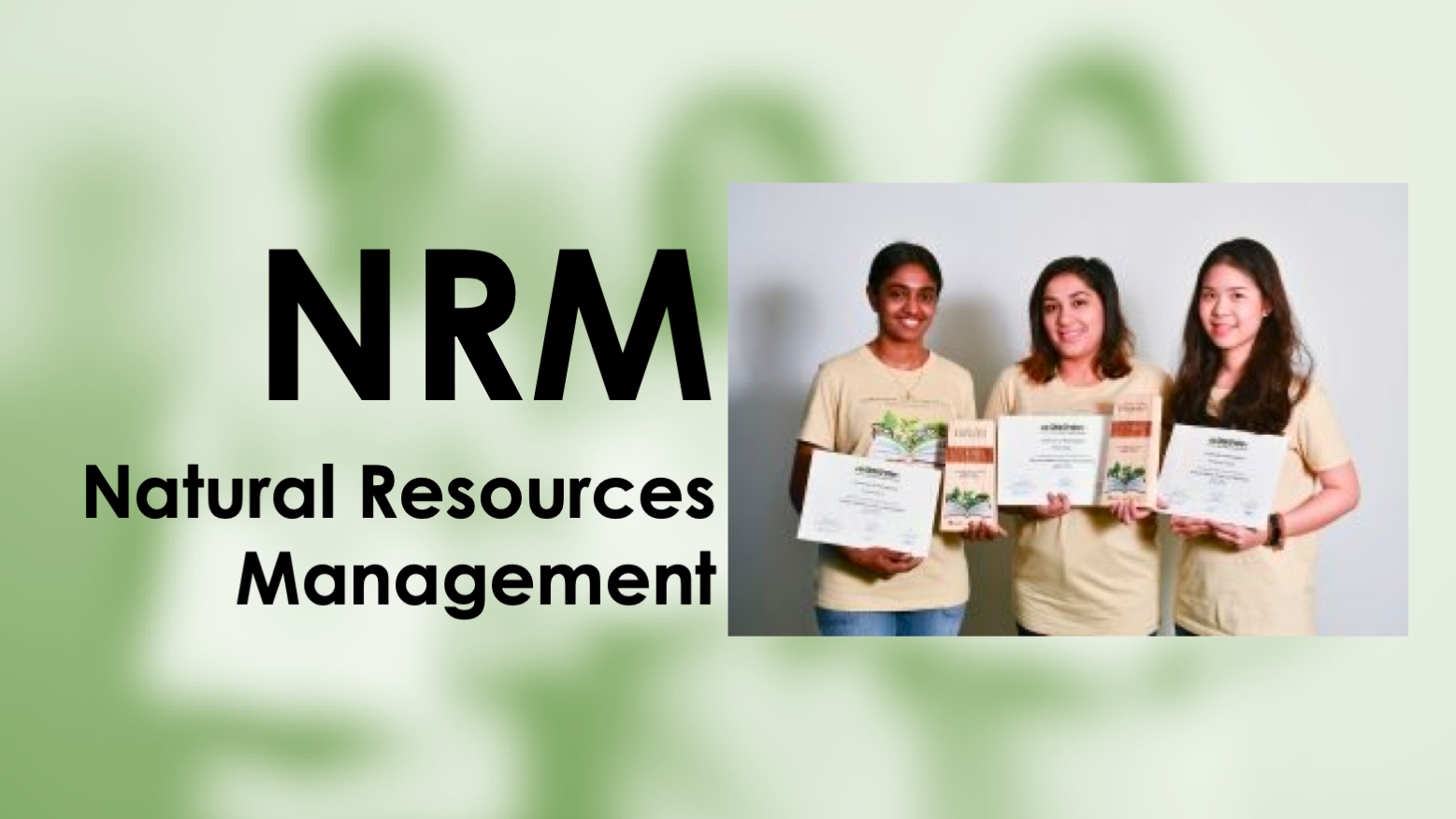 A team of three students from the Asian Institute of Technology (AIT) has won the 2019 International Day of Forests (2019 IDF) organized by the Food and Agriculture Organization of the United Nations on 21 March 2019.
The AIT team of Sarathanjali Manoharan, Pimolporn Jintarith, and Megha Bajaj, who debated on the topic "Providing the youth with an equal opportunities to study forestry will help reduce inequality issues in the world," emerged as winners at the event, which was co-organized by the FAO, the Center for People and Forests (RECOFTC), and United Nations Environment.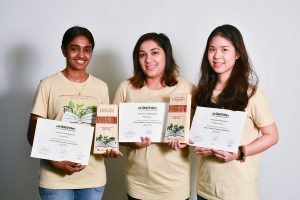 Beside winning the contest, Sarathanjali Manoharan was also adjudged best debater. All three team members are currently studying in the Natural Resources Management (NRM) program in AIT's School of Environment, Resources, and Development (SERD). Like all AIT teams, the panel is highly international in its composition. While Sarathanjali is from Sri Lanka, Pimolporn is from Thailand, and Megha is from Nepal.
The contest began with Megha speaking for the motion, which was followed by a crossfire of questions from the team from Kasetsart University. The second round had Pimolporn refuting the arguments presented by the motion's supporters and presenting evidence that highlighted flaws in their position. Sarathanjali carried the day with the final round, when she presented more evidence and provided additional data to win the trophy for AIT.
The contesting teams were welcomed by Ms. Kundhavi Kadiresan, Assistant Director-General and FAO Regional Representative, Mr. David Ganz, Executive Director, Center for People and Forests, and Ms. Dechen Tsering, Director, Asia-Pacific Office, UN Environment. The three judges were Mr. Yurdi Yasmi, Forest Policy Officer, FAO Regional Office for Asia and the Pacific, Ms. Sandra McGuire, Director, Knowledge Management and Strategic Communication, RECOFTC, and Ms. Emelyne Cheney, Regional Coordinator, Forests and Climate Change, UN Environment.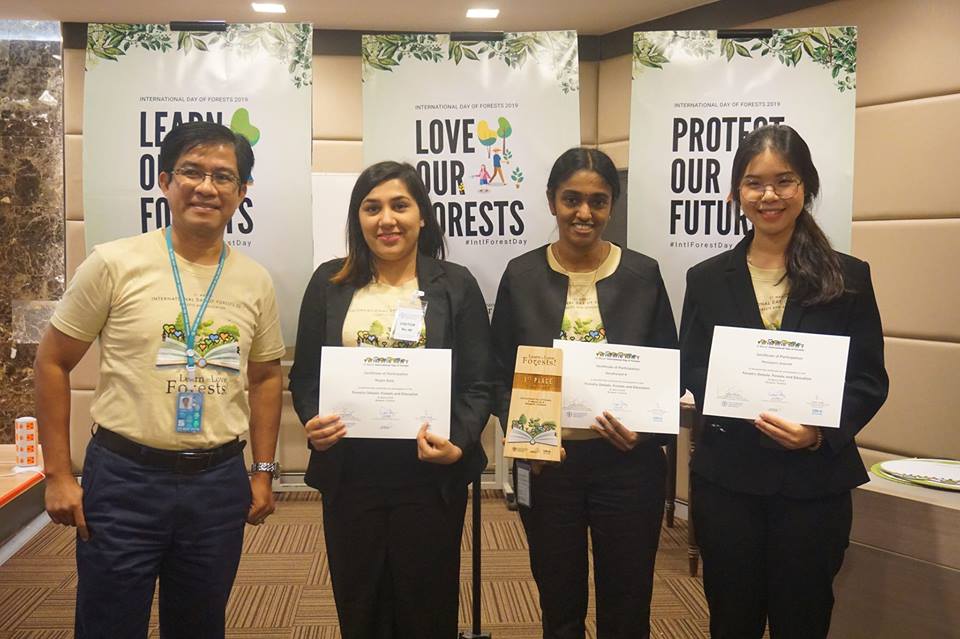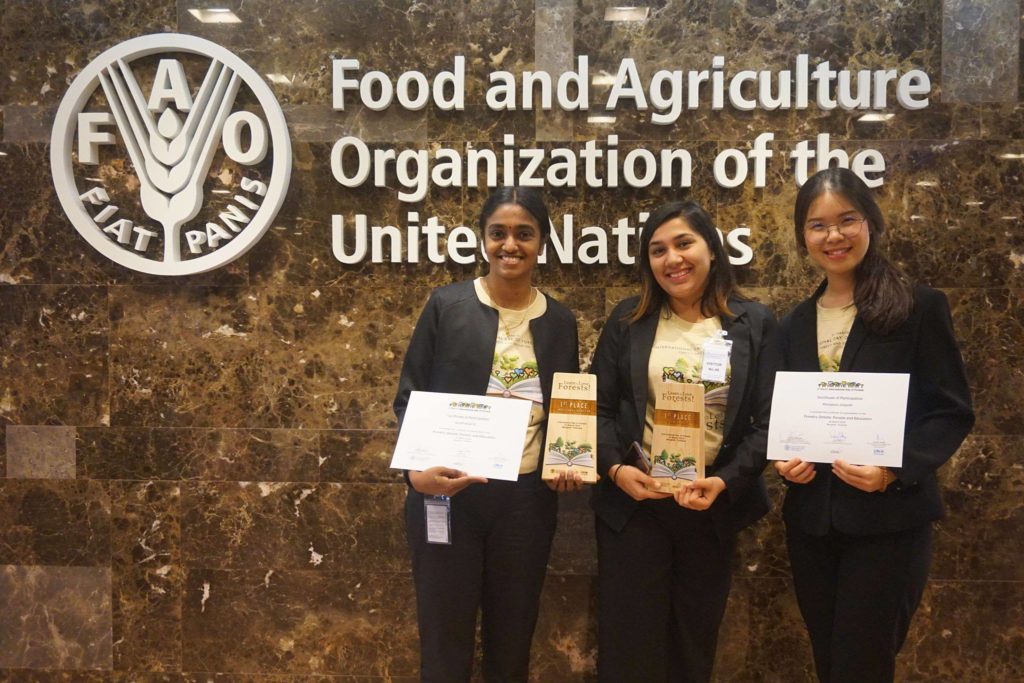 This is the fourth time that AIT has won the contest. AIT teams previously won the contest in 2014, 2015, and 2016.
The original news from https://www.ait.ac.th/2019/03/ait-students-win-2019-international-day-of-forests-debate/