Ms. Way Way Hlaing (RRDP Student) is the winner of the AIT Students' Blog Contest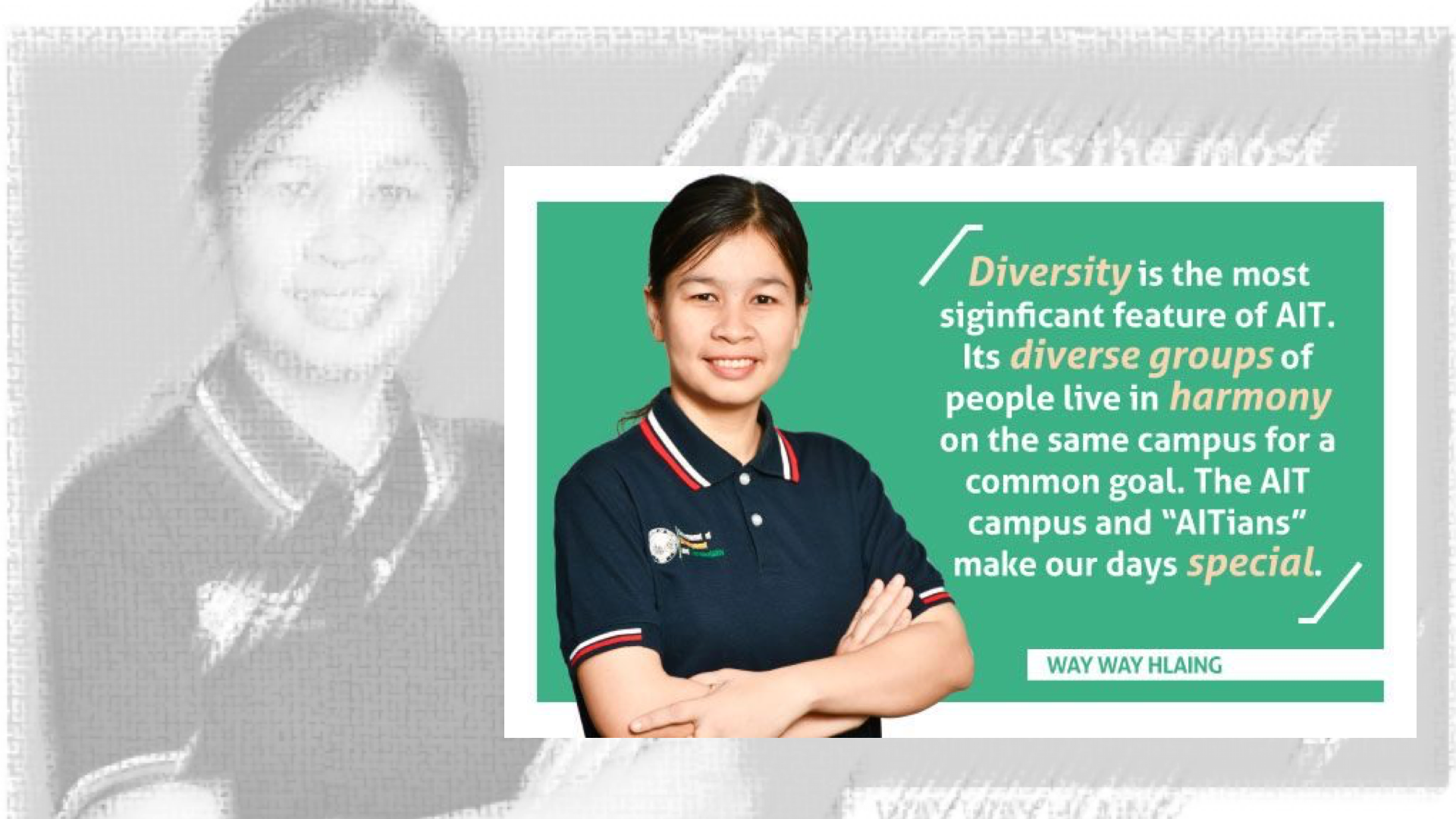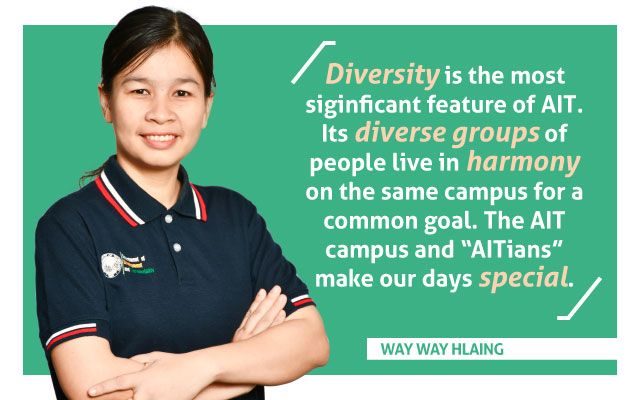 Ms. Way Way Hlaing is the winner of the AIT Students' Blog Contest (January 2019) semester. Her blog post titled "Each and Every Moment is Special" can be read here:https://www.ait.ac.th/2019/03/every-moment-special/

Ms. Way Way Hlaing is a student of Regional and Rural Development Program in our School of Environment, Resources and Development (SERD).
The second prize goes to Treza Theint of the School of Engineering and Technology (SET), while Samudhbha Sharma from SERD wins the third prize.
Congratulations to our winners! We wish to thank M.L. Thanisa Choombala, Interim Director of AIT's Language Center for evaluating the entries.
"It's hard to be away from the ones you love,

And the days seem to slowly drift by…"

by Way Way Hlaing*
I whispered these lines from a song as soon as I woke up on my very first morning at the Asian Institute of Technology (AIT). Because of my late arrival and tiredness after a long journey, against my curious nature, I fell asleep in the strange room without noticing the time of night or my new environment.
I opened my door, and a word suddenly came out from my inner mind: "Green." Yes, it's really green. Full of surprise, I gazed at the scene of green from the verandah of my room. Green lawn and big trees were in my line of sight. The sky could be partly seen through the crown cover of trees. This canopy let the sunshine scatter on the lawn. Two lovely squirrels were climbing up and down the tree nearest to my room. For a few minutes, I was mesmerized by the new natural scene until I remembered that I had to complete the process of registration. I quickly entered the bathroom and took a shower, singing: "It's hard to be away from the ones you love, and the days seem to slowly drift by…"
The process of registration didn't take a long time, and it was smoother than I expected. The registry unit, the government relation unit (GRU), the medical unit, and the cashier being in the same administrative building made the process easy and convenient. Whenever I said, "Thank you" to the staff, they replied "Ka" with a kind and helpful manner. After the registration process, I had a chance to walk around the campus. I took photos of everything and everywhere: lotus on the lakes, flowers, birds, monitor lizards, tress, greenery, fish in the ponds, overhead transmission lines, office and academic buildings, even the garbage bins for separate waste: all were worth clicking. I noticed AIT as a place of biodiversity. At night, I shared my first day's experience and my clicks with my loved ones in my home country.
As the AIT Student Union (SU) organized a welcome trip and other special events, students from different countries became friends in a short time. When the mid-semester exam came and stressed me while I was still trying to become familiar with the new environment, make friends with different nationalities, and explore new things in my surroundings, in shock, I cried out: "Oh! Time flies so fast!" From that time on, I couldn't sing "…..and the days seem to slowly drift by…." Any more.
Although almost all the students are frightened of exams, they also understand that AIT is a place not only for studying. They enjoy campus life. They always try to get involved in events and activities beside academic work. We see students who were busy with assignments and group projects becoming refreshed at the Friday night DJ party or music club. Students who were seen with bundles of books in the library are now volunteers in campus activities. We see students enjoying night-time sports in the various grounds on campus. AIT supports facilities for all students to enjoy campus life.
I do the same as the other students. I usually go to the library as I feel it's really a resource center that can provide many valuable books and information and one of the most impressive places in AIT. I have to be involved in many groups at the same time for projects and assignments. But I don't miss out on extra-curricular activities. I try to enjoy the special events such as cultural shows, food fairs, career fairs, and special talks. I always take time to create happy times with my lovely friends who make my AIT days special. I'm happy that I can say "Hello" and "Thank you" in at least
nine different languages. I'm happy to have such good friends who don't allow me to feel lonely. The peace and serenity of the campus refreshes me to some extent, but friendship really touches my heart. AIT teaches me to live happily and actively and to find balance in life.
Diversity is the most significant feature of AIT. Its diverse groups of people live in harmony on the same campus for a common goal. The AIT campus and "AITians" make my AIT days special. If someone asked me what makes AIT unique, it would be difficult to give an exact answer. After completing my student life and with the passing of time, when I consider AIT, the greenery will surely be part of my memories, as will the campus activities and the facilities. But, and undoubtedly, the friends, the professors, and the staff I met in that amazing place and the time we spent together will be pinned in the deepest part of my heart. For me, AIT will be a special place thanks to each and every moment I'm feeling, facing, and experiencing right now.