Building Women's Movement in Myanmar: Intersectional struggle for gender equality
The Gender and Development Studies Program at AIT is organizing the INTERSECTIONS on Thursday 11th February 2021 from 09:00 – 11:00 A.M. (Bangkok, Thailand time UTC/GMT+0700) via both online and offline. For this time, the topic is
Building Women's Movement in Myanmar:Intersectional struggle for gender equality
About the Speaker
May Sabe Phyu is the Director of the Gender Equality Network (GEN), a coalition of more than 100 organizations collaborating to advocate for women's rights to end discrimination against women and ethnic and religious minorities in Myanmar. She works actively in the areas of the prevention of violence against women, law reform and women's engagement to bring peace. She also co-founded the Kachin Peace Network (KPN) and Kachin Women Peace Network (KWPN) to raise awareness of the human cost of conflict and to advocate for peace and reconciliation.
She is one of the founding members of the Alliance for Gender Inclusion for Peace Process (AGIPP) for promoting women's meaningful participation in Myanmar's peace process and serving as active steering committee member. For her leadership in advocating for the full and equal rights of women, ethnic and religious minorities in Myanmar, May Sabe Phyu was honored with an International Women of Courage Award by the State Secretary of the United States of America in 2015 and Global Trailblazer Award in 2017 by Georgetown University's Institute for Women, Peace & Security. She also received "N-Peace Award" under the category of Untold Stories from United Nations Development Program (UNDP) in 2019 as her third international award. She was listed as one of the inspiring women leaders in changing Myanmar's society by many local and international news media.
She has been recognized as distinguished alumni by the Asian Institute of Technology (AIT) Alumni Association (AITAA), Thailand in September 2015, where she received her first Master degreed in Gender and Development Studies. In May 2018, she received the Josephine S. Vernon Award as an outstanding Mason Fellow who embodies the sprit and mission of the Edward S. Mason Program at Harvard Kennedy School of Government where she attained her second Master degreed in Public Administration.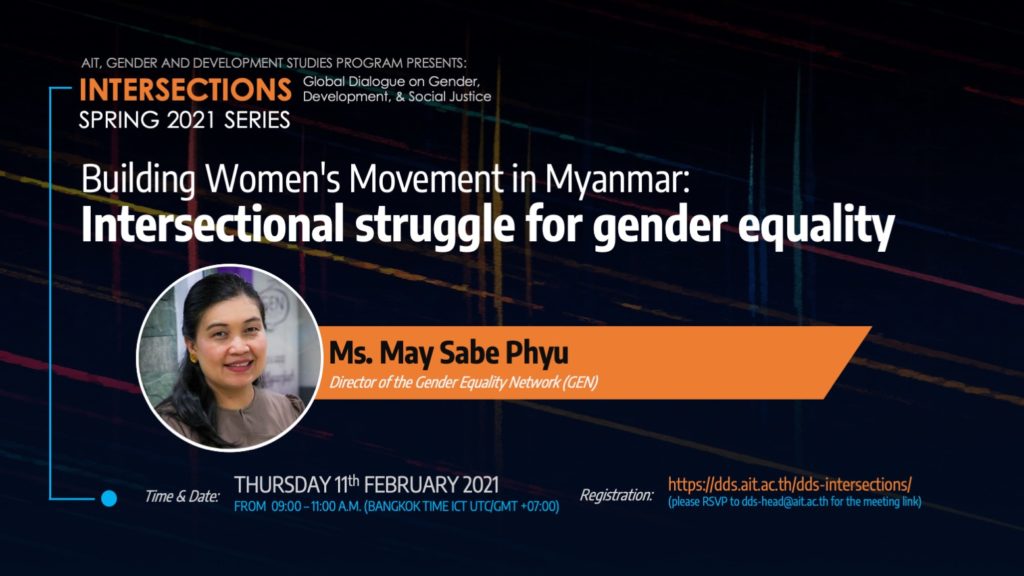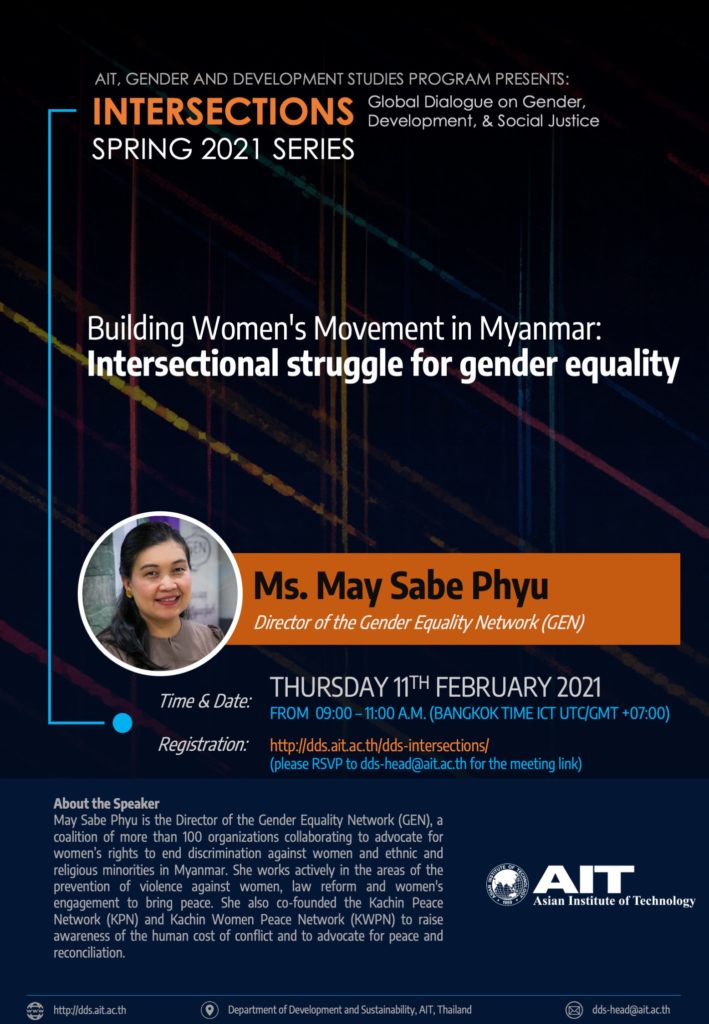 We are pleased to invite you to join us for a series of conversations on contemporary global issues with gender experts from the field. This cross-cultural transnational forum aims to spur dialogue and reflections on a range of topics bridging theorizing, policy and development practice addressing current Feminist concerns and intersectional work towards social justice.
The series of talks will be offered in hybrid mode – both online and face-to-face. Please register for the talks and we will send you the details. We are happy to be able to establish an opportunity to get together during these isolating and divisive Covid-19 pandemic times.
Registration link: https://bit.ly/3jfDd0M
Visit us for more information: http://dds.ait.ac.th/dds-intersections/