Working Pathways to Women's Political Participation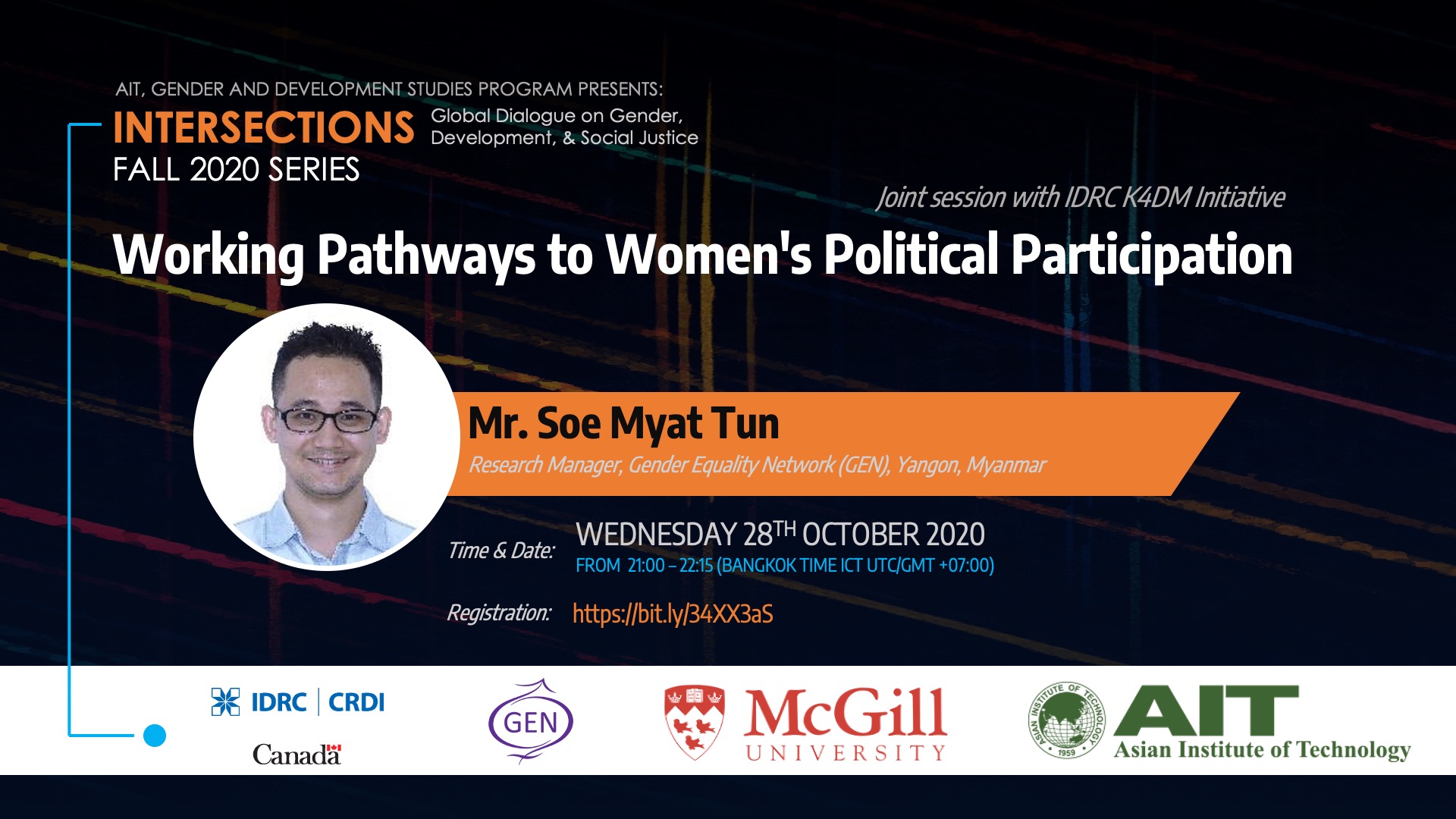 The Knowledge for Democracy Myanmar (K4DM) Initiative is organizing the Knowledge for Democracy series on Wednesday 28th October 2020 from 21:00 – 22:15 (Bangkok, Thailand time UTC/GMT+0700) via online This event is the joint session with INTERSECTIONS. For this time, the topic is
"Working Pathways to Women's Political Participation"
Interested participant please do register at https://bit.ly/34XX3aS
About the Topic
The talk examines women's engagement and participation in political activities and leadership at different levels of analysis (macro, meso, micro) and from different perspectives. The discussion is based on findings from an ongoing research project "Barriers and Pathways to Women's Political Participation in Myanmar", led by the Gender Equality Network (GEN, Myanmar) in partnership with the Asian Institute of Technology (Thailand) and McGill University (Canada).
About the Speaker
Soe Myat Tun, Research Manager, Gender Equality Network (GEN), Yangon, Myanmar. He got M.B., B.S degree from University of Medicine (Magway), Myanmar, and Master of Public Health (Global Health) from Thammasat University, Thailand. He has been leading the project management of this "Barriers and Pathways to Women's Political Participation in Myanmar" along with other research projects like "Election Coverage by Selected Media's Facebook Pages from Gender Perspective", "Voices hard to be heard" and "ARRIVED".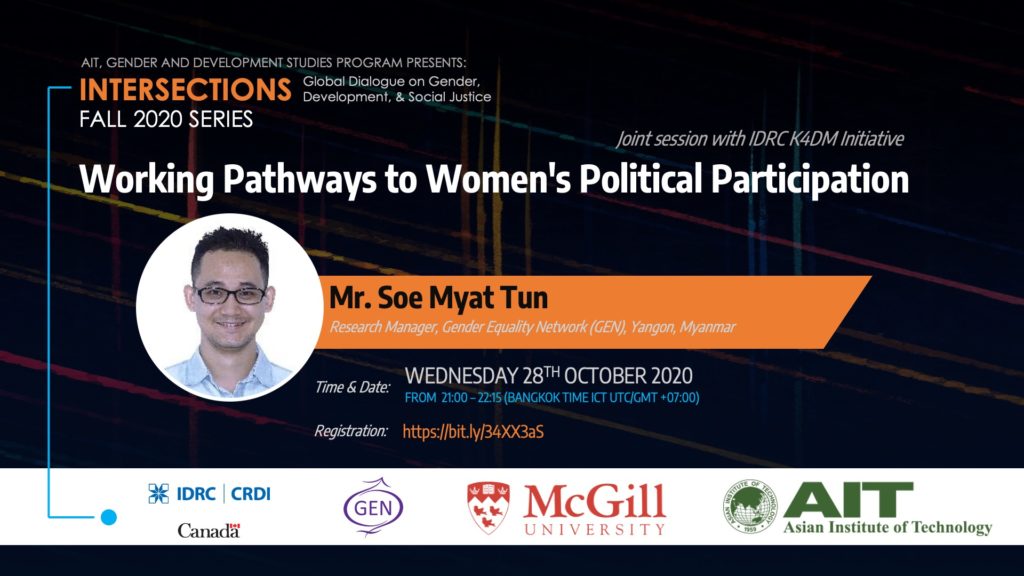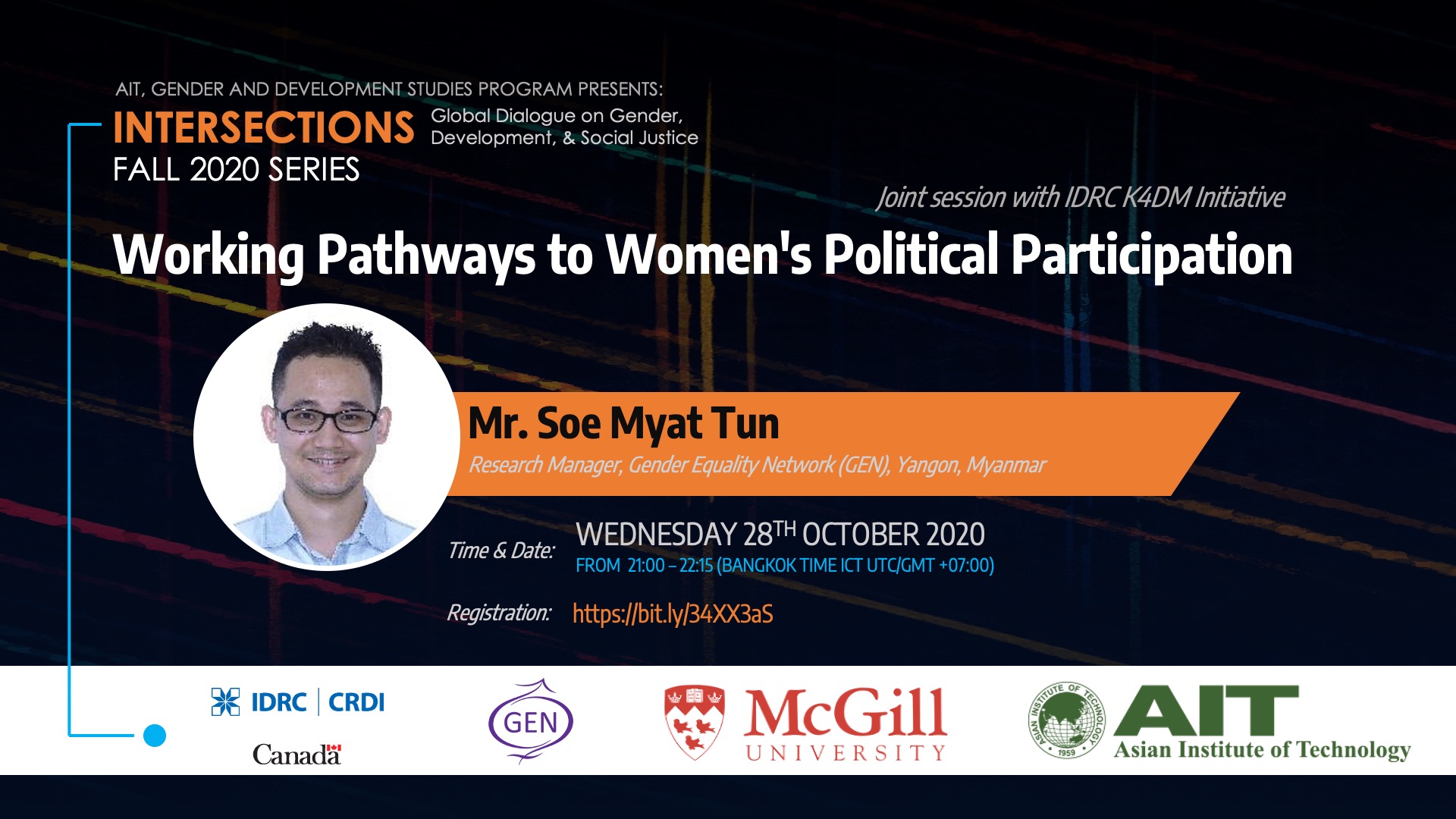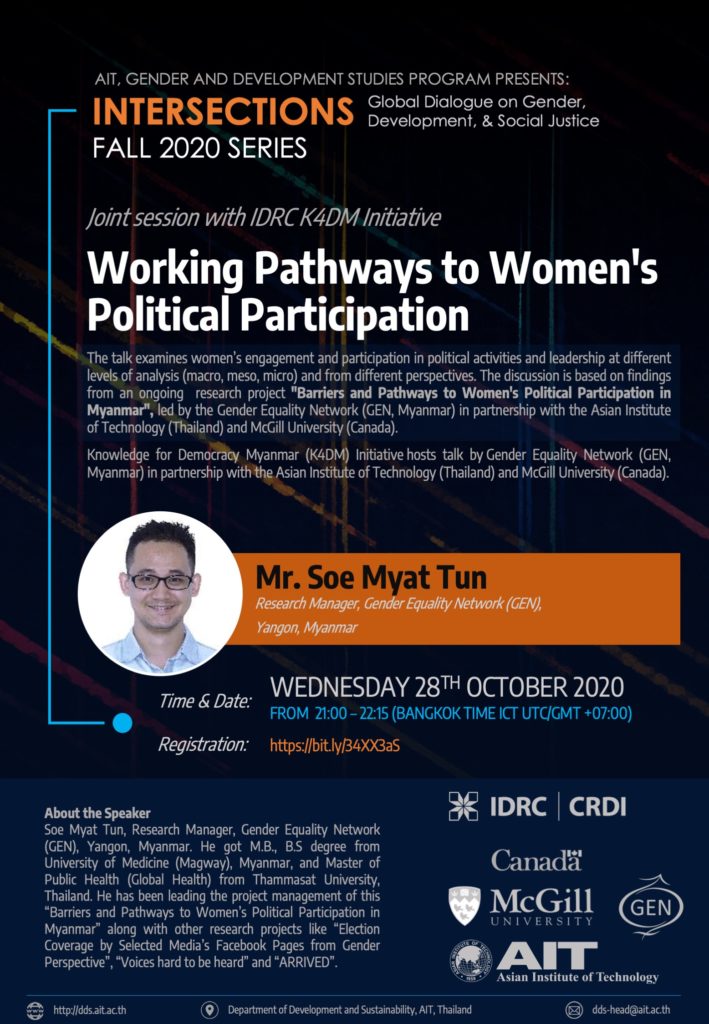 We are pleased to invite you to join us for a series of conversations on contemporary global issues with gender experts from the field. This cross-cultural transnational forum aims to spur dialogue and reflections on a range of topics bridging theorizing, policy and development practice addressing current Feminist concerns and intersectional work towards social justice.
The series of talks will be offered in hybrid mode – both online and face-to-face. Please register for the talks and we will send you the details. We are happy to be able to establish an opportunity to get together during these isolating and divisive Covid-19 pandemic times.
Registration link: https://bit.ly/34XX3aS
Visit us for more information: http://dds.ait.ac.th/dds-intersections/