Women Empowerment Video by DDS Student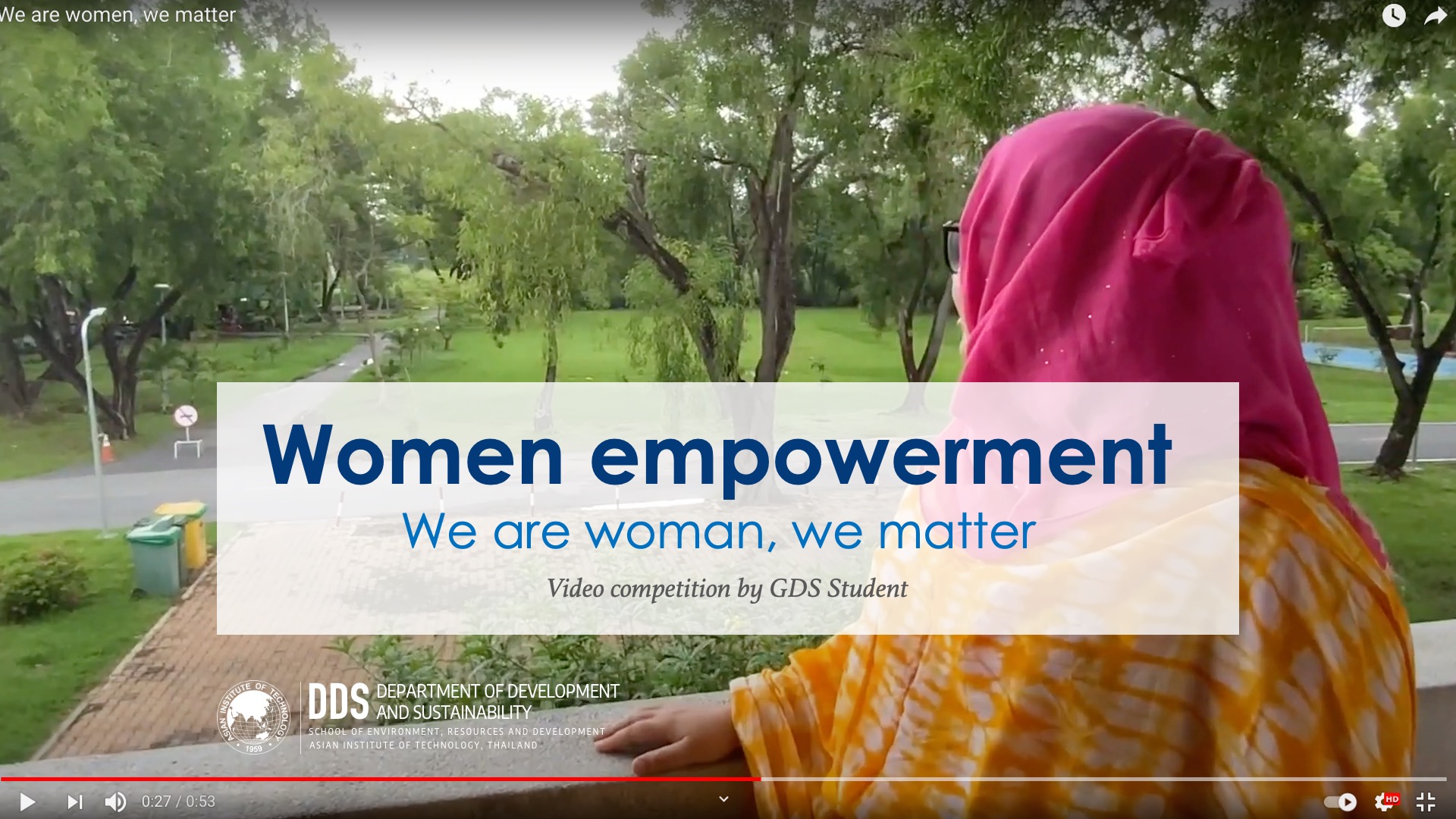 Jiayu Guo (Master, GDS Student) has competed in the Film Festival 2020 with the short video theme "We are woman, we matter"
Topic: Women empowerment
Short video theme: We are woman, we matter.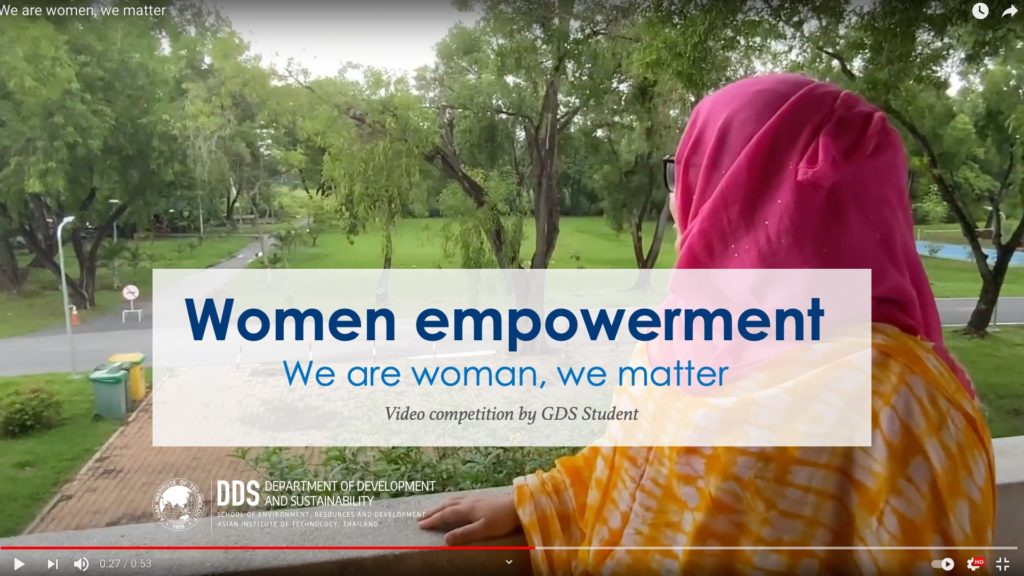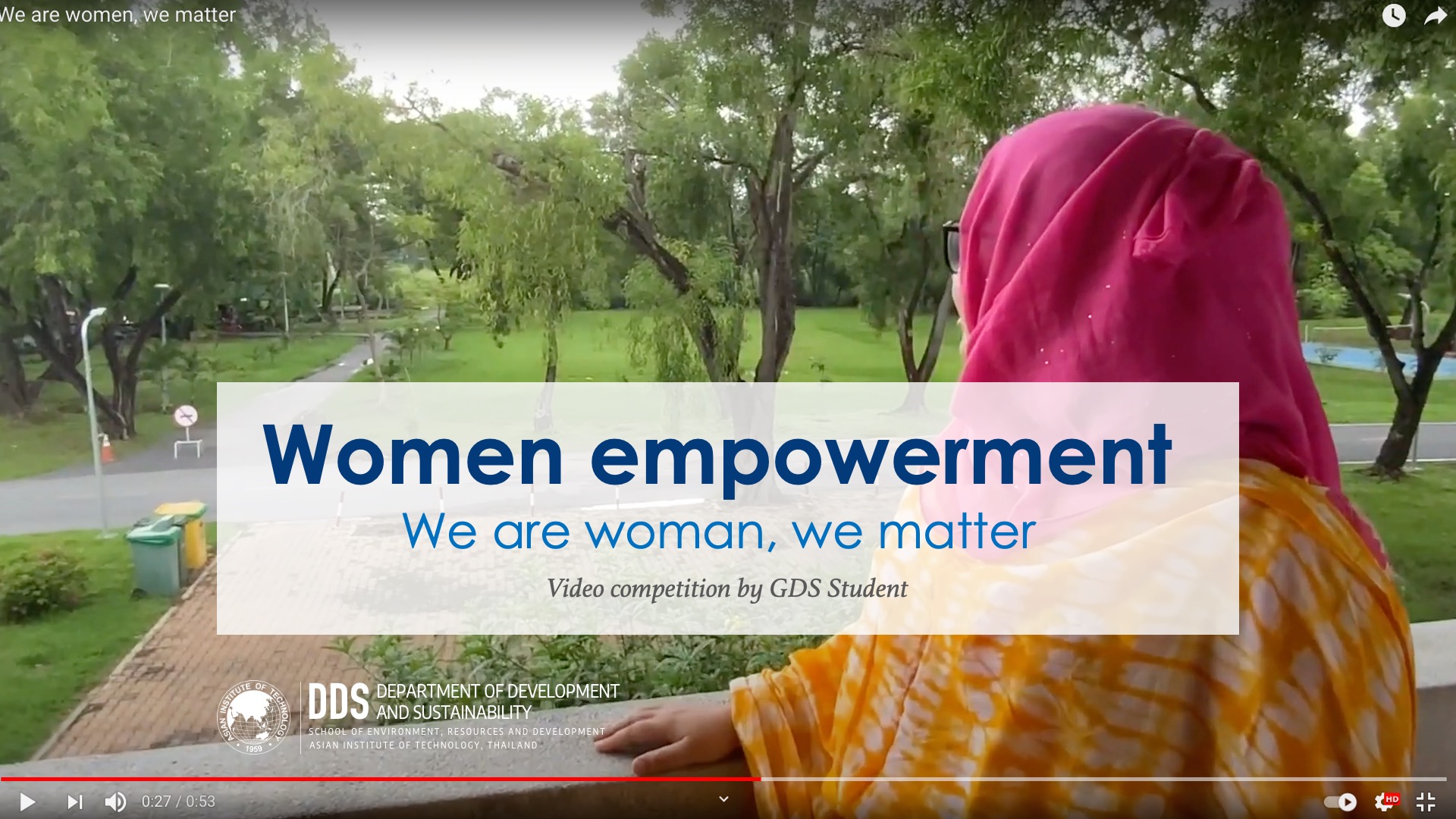 Introduction: When I searched for videos about this topic participated before, I found most of them were about sexual harassment, domestic violence, and genital mutilation etc. There is only one video about gender equality in sports. Maybe because of the expression ways of arts, using this kind of aggressive-eyes, expressive, serious frames is easier to express theme. But what in my understanding about women empowerment is something that needs to be embodied in everywhere and be in everyone, which is normal, small but still significant enough. So I am trying to use some life lens of different woman's normal life to express how does she empower herself, that is be herself.
There are many roles for women in the society, they are professors, mothers, daughters, dancers, housekeepers, deliveries. It's very important to show that all women are valid, they all matter and no one should be left behind. We don't have to be mothers, daughters so that can matter, but we all matter just for being an ordinary woman.
In this video, we are trying to emphases the original faces and names of them. Try to tell women in the society, whoever you are expected to be, whatever roles you are playing, you are yourself whom already matter.
People and lens:
1.House keeper: age (50-60)
Scenario she is cycling in the street of campus with cleaning stuffs. It is ok for she are companying and talking with other housekeepers, but lens and subtitle will only focus on her.
2.Primary student: younger girl (age 0-10)
Scenario in primary school
3. Baker
She is working at her shop
4. Professor: Prof. Kyoko Kusakabe
Normal scenario that she is taking class or having a meeting with others. The key point is that she is communicating with others. When she finished the class and was opening the door of class room, the lens will be changes to the mother.
5. Mother: A student with child in AIT (age 30-40)
Scenario with her child. The mother closed the door, and interact with her children.
6. Dancer: dancer Joyeeta
Scenario she is dancing with sunset (better). Because it is the last lens.
Explanation:
About 5 seconds for every person individually. (add up 35 seconds)
Subtitle only shows their role, national and age with music. Such as Dancer, Bangladesh, 23.
About 25 seconds for the last lens.
They are speaking their names. Lens will be focusing on their mouths only. Their names will be showed continually beside the frame with their voice. Then the theme will be showed and faded: We are women, we matter.
Time line
Finish recording before 16th Oct.
Editing video 17-18th Oct.
One day for review and modifying 19th Oct
| | | |
| --- | --- | --- |
| | Arrangements | Responsibility |
| Role 1 housekeeper | | |
| Role 2 primary student | Friday | garry |
| Role 3 shop assistant | | garry |
| Role 4 delivery | | |
| Role 5 professor | Monday 19th 4-6 pm | garry |
| Role 6 mother | | Jialing |
| Role 7 dancer | Friday 4 pm summer house. | garry |
Critical:
The topic is women empowerment. There are two kinds of understanding of it, one is "show how the women are empowered by the video", the other is "make the audience feel empowered by this video". Our plan is relative to the second more now.
Social roles vs. Be yourselves.
How does this change express the process of empowerment? There is a gap between them. Do we need to make sure one specific aspect of empowerment?