The Royal Thai Government Scholar Interview – Wisnu Budi Waluyo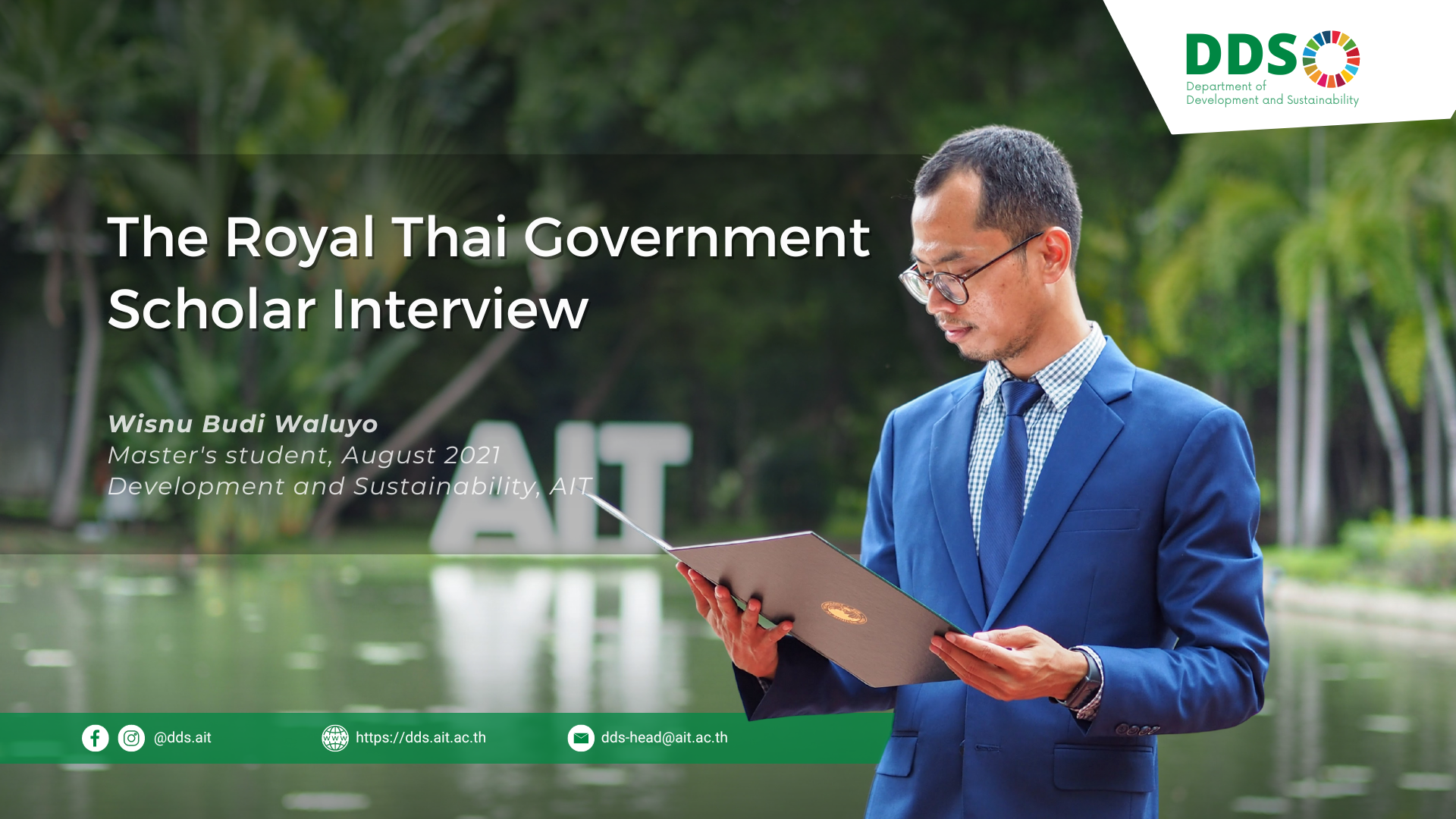 DDS would like to warmly congratulate Wisnu Budi Waluyo, Master's student in the Development and Sustainability program, August 2021 batch for receiving The Royal Thai Government Scholarship – Her Majesty the Queen's Scholarships for Master's Programs. The following is an interview exchange with the Royal Thai Government recipient, which may serve as a guideline for those interested in applying for study at DDS.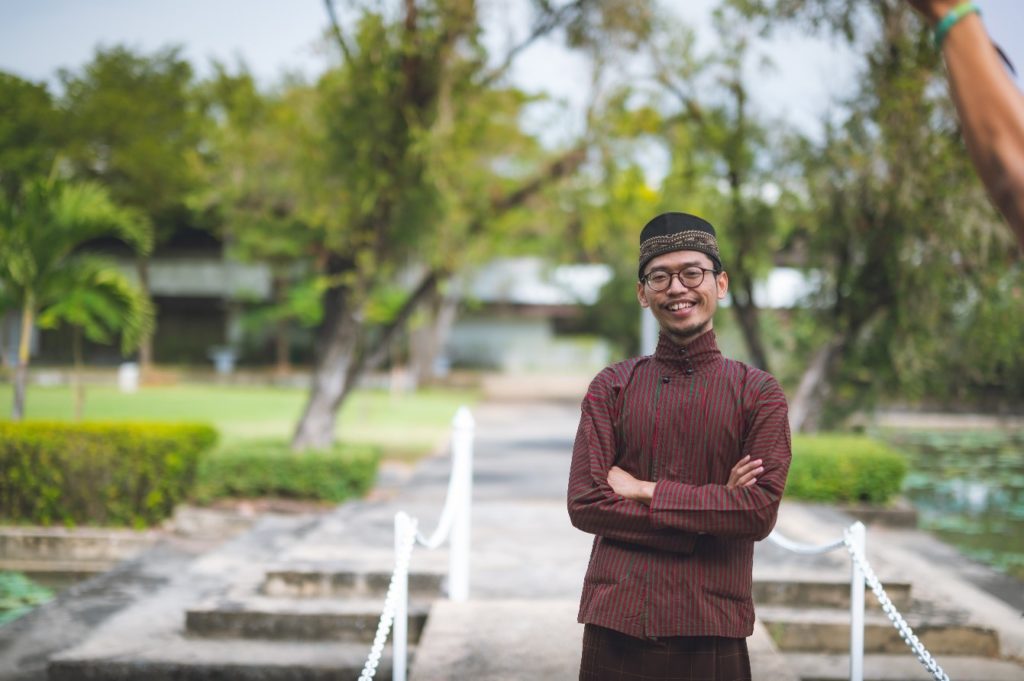 Interview Questions
Q: Congratulations on receiving this year´s RTG HM Queen. What does the award mean to you?
A: It means a lot to me. Studying master's abroad with a full scholarship is such a privilege. My dream is to study overseas, and I cannot afford it without a scholarship. I am so thankful to receive the scholarship from the Royal Thai Government. This is one of the most prestigious scholarships in Thailand. I am honored to receive the certificate directly from Her Royal Highness Princess Maha Chakri Sirindhorn in the palace. It is once in a lifetime experience. Not everyone got this chance.
Q: How did you find out about the Royal Thai Government Scholarships?
A: I read all of the information on the AIT's website. Everything is clear and well explained there.
Q: What did you bring to AIT, Thailand? How do you experience studying at the Department of Development and Sustainability, SERD, AIT?
A: My friend suggested I apply to AIT since it has better international exposure than the other Thai campuses. Studying at the DDS is the best fit for me since it provides programs that any student with any background can apply to. The DSP is perfect for me because it gives me the freedom to plan and decide on my own study. The lecturers are also very qualified with diverse expertise. They are professional and helpful in mapping my study and research plan. Most lecturers teach and deliver the lecture in a very understandable way. The students also give me various experiences since they come from many different countries with interesting backgrounds and stories.
Q: What are the most important things you learn at AIT School when considering your other career and personal level?
A: Studying at AIT has led me to adapt to the international environment that requires me to keep updated with knowledge and information in many sectors. It builds my capacity and capability personally and professionally. This will benefit me much in my career, where what I got from AIT will equip me with a better understanding of many fields.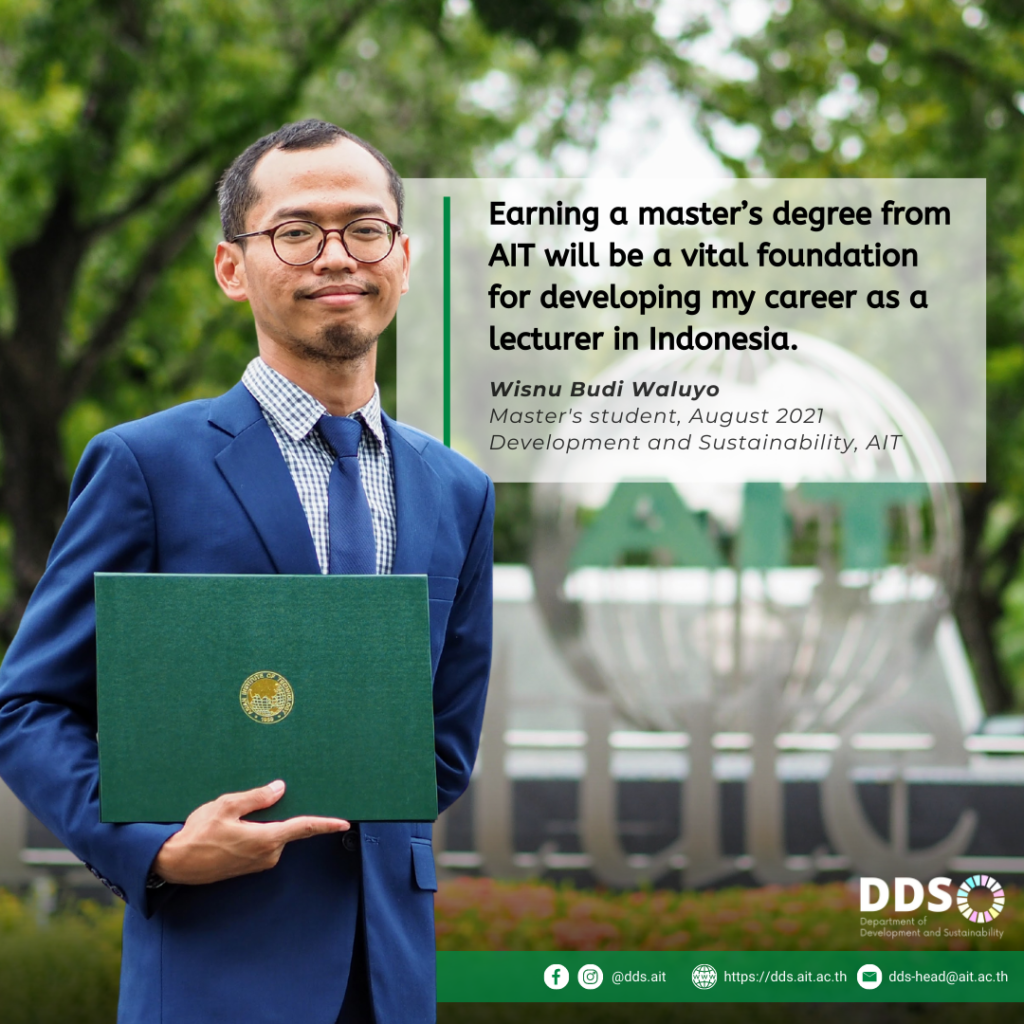 Q: How would you describe the differences between living in Thailand and your home country?
A: Since we have similar cultures and geographical conditions, there are no significant differences. Maybe it is only about being a minority here. There is a mosque in AIT which is good. There is also a Muslim student association. There are halal foods in AIT. However, finding a mosque and halal foods will be difficult when I go outside AIT. Living in Thailand also taught me tolerance and respect for differences.
Q: What do you like most about living in Thailand?
A: The strong Thai culture amid modernization makes me fall in love with this country. The people still hold the culture and customs firmly, although technology keeps advancing. Thai tourism also attracts me in the way they manage this sector well.
Q: What do you recommend to students who want to receive a scholarship?
Profiling yourself well.
Specify an area you are passionate about and earn more experience in it.
Select a program that fits your academic and professional background and plan.
Joining AIT roadshow, and do not hesitate to ask any questions.
Understanding the scholarship well.
Meet the requirements.
An IELTS certificate with at least band 6.0 is a foundation and gun to apply for the scholarship. By having an IELTS certificate, you do not have to take an AIT EET and EEL, which distracts your main study.
Make a clear study plan or motivation letter by highlighting your academic and professional background and relating them to your plan.
Q: Can you imagine working in your home country after graduating?
A: Earning a master's degree from AIT will be a vital foundation for developing my career in Indonesia. What I got from AIT equipped me academically and professionally to be a lecturer. The lecturers at AIT inspired me to give world-class lectures to my students.
Congratulations
Congratulations again to Wisnu Budi Waluyo, Master's student in the Development and Sustainability program, August 2021 batch. DDS wishes you a successful journey ahead in all your future ventures and endeavors. We would also like to offer our full encouragement and support to you every step of the way.
More Information about Full-funded Scholarship from the Royal Thai Government (RTG)
Get the Direct Link to Apply
[iframe src="https://alice.zentory.space/serd/PreAdmission/apply_frame?sc=post-wisnu-rtg23&cp=istd-23″]