Poetry Contest Organized by SU Gender and Culture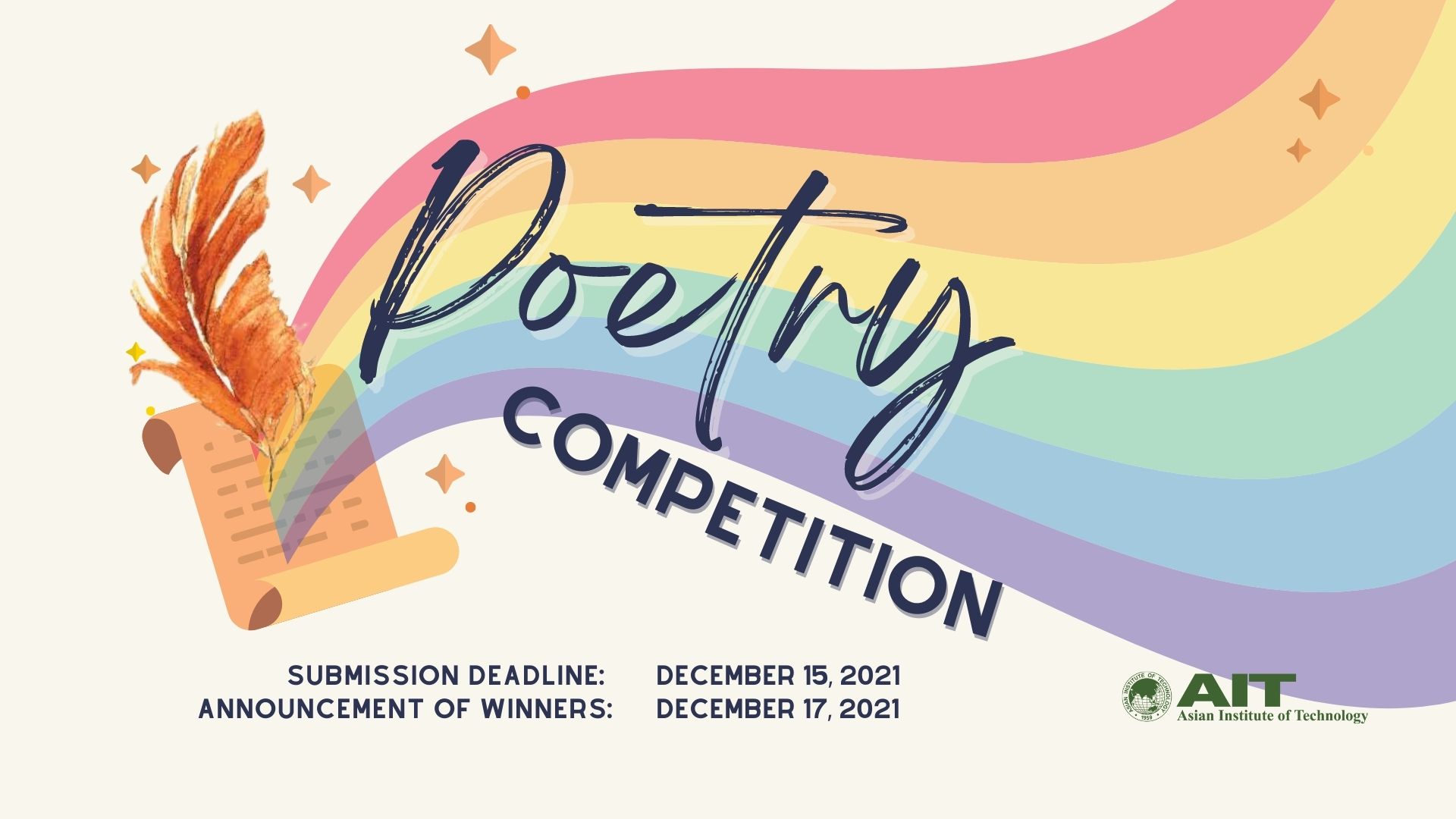 Important Date
Submission Deadline: December 15, 2021
Announcement of Winners: December 17, 2021
Speak the unspoken
For the first time, the Asian Institute of Technology, through the School of Environment, Resources and Development, opens a poetry contest that allows its students to be free and creative as they unleash the unspoken words of support, love, and respect to every person.
Submit your piece for a chance to win up to 5,000 BAHT in cash! Your poem should reflect the LGBTQIA+ community's aspirations, agency, power, struggles, hopes, and/ love, using whatever style you prefer under the spectrum. There is no fee to enter our contests, so you have nothing to lose. You can submit up to 3 entries, so show us what you've got!
See the attached posters for more details. For queries, please contact the organizer at st122446@ait.asia.
Keep it coming.
POETRY CONTEST GUIDELINES
The poet must be a current AIT student.
Poetry can be written in any poetic style, reflecting LGBTQIA++ people's aspirations, agency, power, struggles, hopes, and/ love
The poem must be original. Plagiarism is a serious offense with serious consequences.
Only up to three poems per person is allowed.
Any entry containing cliché, overused phrases will not be accepted.
Example:
The sun is bright I love you All work and no play
All poems must be written in English.
Contest entries must be at least 3 but cannot exceed 26 lines (including stanza breaks) and cannot exceed 55 characters per line (including spaces between words). Any submission that exceeds these limits will be automatically disqualified. The poem title does not count as a line.
The poem must be in single space.
Poem must adhere to basic rules of capitalization:
(a) Do not type poem in all capital letters.
(b) Do not capitalize the first letter of every word.
(c) Only capitalize words that are proper (i.e. names and places).
(d) The first word of each line may be capitalized if it is done consistently throughout.
(e) Do not use "texting" lingo. Properly spell out all words and numbers.
Poems containing language that is vulgar, offensive, or wholly inappropriate will not be accepted.
The poem must be submitted in PNG or JPEG. Do not include your name or any other information at the end of your poem. Details, such as name and student ID, must only be indicated on the submission via email.
POETRY RATING AND CONTEST JUDGING
A.  Rating:
50% from the board of judges
50% online voting (only for AIT officials, faculty, and students)
B.  Criteria for judging:
1. Relevance to the theme                                        50%
2. Creativity/Style and Originality                              30%
3. Coherence of form and structure                          10%
(harmony of words, presentation)
4. Clarity of imagery and language                            10%
Note:
Moderate effort was made to incorporate poetic device: imagery, figurative language, alliteration, assonance, consonance, metaphor, simile, symbolism, diction, rhyme, rhythm, meter, personification, onomatopoeia, repetition, tone.
PRIZES
              First prize:        5,000  BAHT, with Certificate of Recognition
              Second prize:   3,000 BAHT, with Certificate of Recognition
              Third prize:       2,000 BAHT, with Certificate of Recognition
All winners will be invited to join the open-microphone event in the first quarter of 2022.
HOW TO SUBMIT
Submit your entry to st122446@ait.asia. Use "[Poetry Contest] Name" as your email subject.