NRM REDD+ Training 2018 in Bangkok, Thailand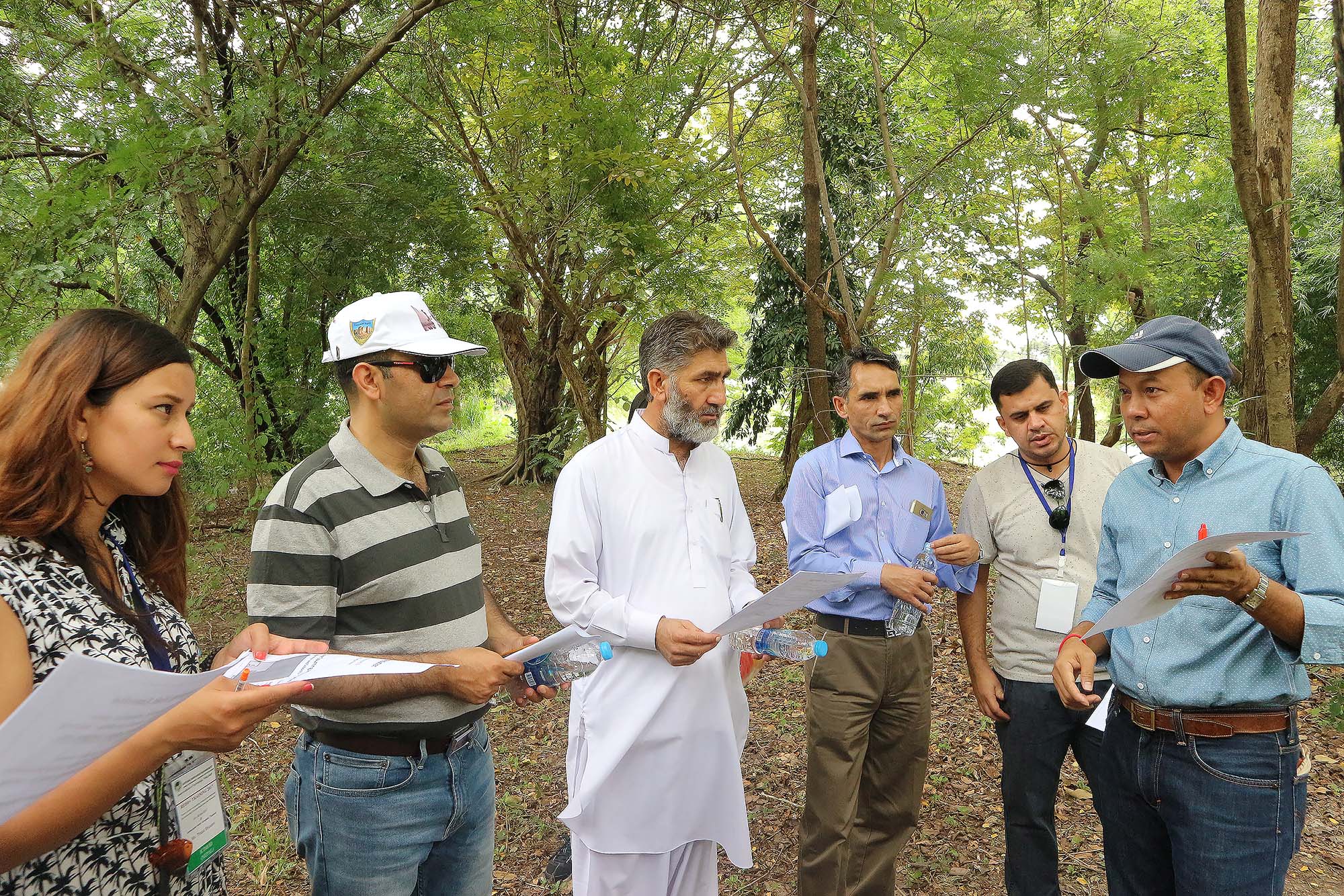 Accounting for Forest Carbon Stocks, Emissions, and Reductions or Removals using Forest Inventory Data and Google Earth Engine
Traning Date :
23-31 March 2018
Training Venue :
Ambassador Hotel Bangkok
Field Trip :
Forest inventory at Khao Hin Son Royal Development Study Centre, Thailand
Training Capacity :
25 Trainees
Course Instructors :
Dr. Nophea Sasaki, Forest Carbon Accounting and Modeling, REDD+
Prof. Rajendra Shrestha, Forest Monitoring, Land Use Planning
Mr. Manjunatha Venkatappa, Google Earth Engine, Conservation Drones, and RS/GIS
Mr. Kamran Hussain, REDD+ and climate finance
Brief Background
This is the 3rd International training on Forest Carbon Accounting and Monitoring with reference to REDD+ to be organized by the Natural Resources Management of the Asian Institute of Technology, Thailand. The new content is designed to reflect the previous training in July 2017 experiences to ensure that trainees obtain the knowledge they want. Trainees are expected to do hand-on practices and active participation in the class as well as in the field so that they will not miss any lecture and exercises. With the technology development and the increasing availability of online data and tools, this year's training will be put more emphasis on the use of Google Earth Engine and Collect Earth for forest carbon monitoring.
This training will target anyone who has interests in understanding how to calculate carbon stocks, emissions, reductions and/or removals in tropical forests with/out financial support. Trainees are expected to have some knowledge of using computer such as internet, Gmail, google drive, spatial data or others. Trainees are encouraged to bring their own data (forest inventory data, spatially referenced Map, remote sensing images, GPS survey data, etc.) and Laptop for exercises. Trainees can bring back the results of data analysis during the training to their respective institutions after returning home. Furthermore, trainees must have good command of English.
Tentative Program
Reviews of carbon emissions and sequestration in tropical forests (2 hours)
REDD+ and the Climate Change Agreements (2 hours)
Forest carbon accounting protocols and exercises using forest inventory data (2 days)
Forest monitoring using Google Earth Engine and Collect Earth (with exercise) (2 days)
Forest monitoring using drones (with exercises) (1 day)
Fieldwork: Forest inventory, social surveys and exercises of raw data calculation (3 days)
Course fees
US$2,500 including accommodation in Bangkok, coffee break, lunch, training materials, local transport and airport pickup
US$2,000 for trainees who do not need accommodation, local transportation and airport pickup
Payment instruction
Payment deadline is stated in the invitation letter. Please mention "REDD+ 2018" in your Transfer Notice. Payments of the fees can be paid in either US Dollars or in Thai Baht through the bank account below:
Bank Name: Siam Commercial Bank, Thammasat University Hospital
Branch Name of A/C: ASIAN INSTITUTE OF TECHNOLOGY
Current A/C # 468-046301-2
Address: 95 Moo 8, Klong Nueng, Klong Luang, Pathumthani 12120, Thailand
Swift code: SICOTHBK